Niger Delta states can have 100% of oil revenues, but… — Atiku
Posted on
Vanguard
Presidential candidate of Peoples Democratic Party, PDP, Atiku Abubakar, has said he was willing to let Nigeria's oil-producing states have absolute control of crude oil revenues from their domains.
He, however, noted that it would not be feasible to immediately implement such policies at this stage of nation's development.
Abubakar told The Africa Report that federating units once had considerable control of their resources, unlike the current federal laws that only allow 13 percent derivation for states in the Niger Delta, where crude oil is extracted.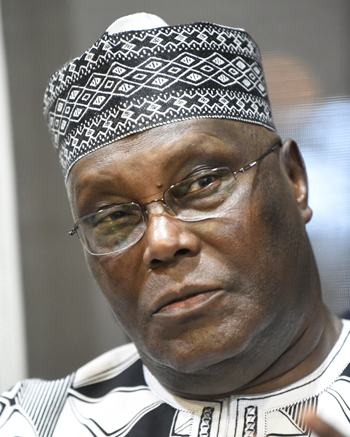 Although Atiku acknowledged that the appropriate sharing formula might be difficult to say, as it would depend on negotiations, he recommended limited role for the Federal Govern-ment in appropriating crude revenues.
"States can get more because in the First Republic, the regions had 50/50," Abubakar told The Africa Report in an interview, Wednesday.
He added: "I don't mind giving even 100 percent, but I would tax those states to maintain the Federal Government."
Pablo luxury night club set to shutdown Lagos for first anniversary
… as GE pulls out of $2bn rail project
Meanwhile, Nigeria's railway projects have recorded a fresh setback as General Electric, GE, pulls out of Nigeria's $2 billion narrow gauge railway concession, according to online platform, TheCable.
The company has handed over to South African Transnet SOC Limited, which deals in pipeline, port and rail construction.
TheCable said GE pulled out from the deal a while ago, following the sale of its 111-year-old rail construction business, but the information was kept under wraps in government circles.
In April, Yewande Thorpe, Head of Communications, GE Nigeria, had said the company signed an interim concession agreement with Nigeria phase for "light remedial civil and track repair works" on the narrow gauge rail line.
"A joint operation will be established between the GE-led consortium and Nigeria Railway Corporation with a supply of 10 locomotives and 200 wagons to augment the existing rolling stock in Nigeria," she had added.
All of that is in doubt now as GE has pulled out, handing over to Transnet, who recently recalled its Nigerian team.
Source: vanguardngr.com