Remi Tinubu enters Women Hall of Fame as 1st female senator in 3 parliaments
Posted on
Legit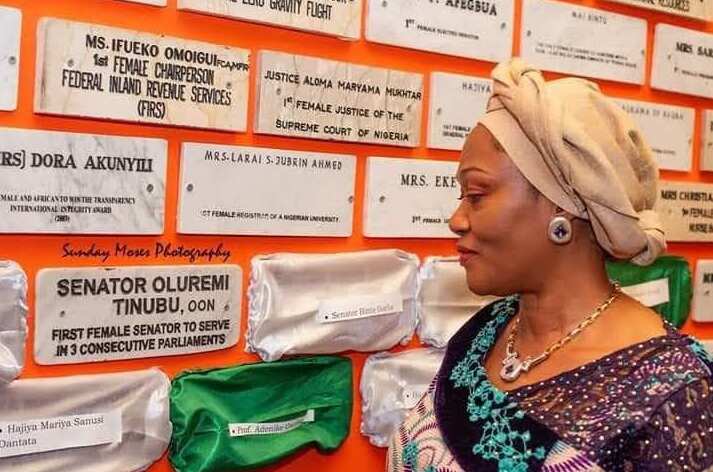 - Wife of the national leader of the All Progressives Congress (APC), Senator Oluremi Tinubu, has been inducted into the Women Hall of Fame
- Sen Oluremi was recognised alongside 21 other female icons among them is the wife of the president, Aisha Buhari
- Also inducted is Late Kudirat Abiola, one of the wives of the acclaimed winner of the annulled June 12 election Chief MKO Abiola
The National Centre for Women Development (NCWD) has picked on selected female icons in Nigeria, dead or living, to be celebrated and inducted into the Women Hall of Fame.
Recognised and inducted into the hall of fame is the wife of Asiwaju Bola Ahmed Tinubu, the national leader of the All Progressives Congress (APC), Senator Oluremi Tinubu.
Senator Oluremi Tinubu was recognised as the first female to be elected into the Nigerian Senate for the third consecutive time. She was first elected in 2011-2015 to represent Lagos Central Senatorial district. She was returned for a second term in 2015-2019 and she was recently sworn-in for a third term on June 11, 2019.
PAY ATTENTION:
In appreciation of her induction, Senator Oluremi, in a tweet appreciates her constituents for believing in her.
By her elections, Oluremi became the first woman to have ascended to the senate after her husband, Senator Bola Ahmed Tinubu who elected senator for the Lagos West constituency in 1993.
Aside being a senator, Oluremi was the first lady of Lagos state for eight years when her husband was the governor of the state between 1999 and 2007.
Also inducted into the The centre said this was in the tradition of keeping records of the wives of heads of states and presidents. The director-general of the Centre, Mary Ekpere-Eta, spoke in Abuja during the induction ceremony of 22 female icons into the Nigerian Women Hall of Fame.
Can Sanwoolu better Ambode's performance in 4 years? |
Source: legit.ng