OPINION: President Buhari, APC and Atiku's American visa
Posted on
Legit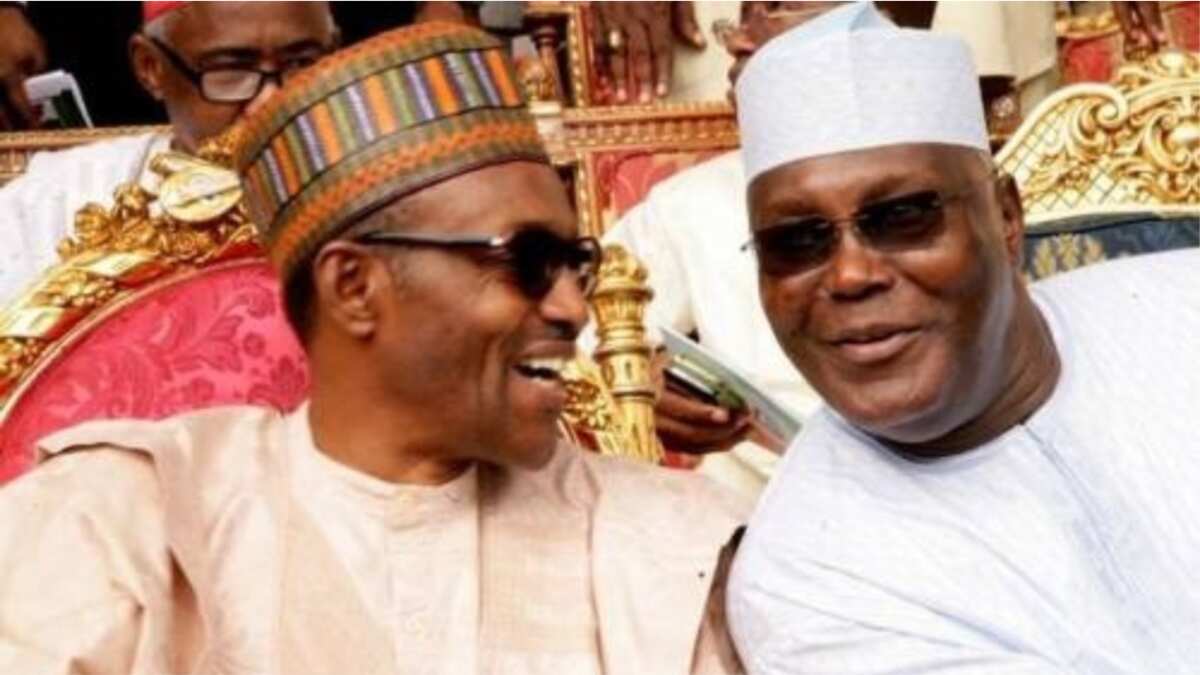 Editor's note: Abuja-based public communication consultant, Phrank Shaiubu writes on the controversy surrounding the proposed United States of America visa to be given to former vice president and Peoples Democratic Party (PDP)'s presidential candidate, Alhaji Atiku Abubakar.
Read below:
The desperation of President Muhammadu Buhari and the All Progressives Congress to stop the growing popularity, acceptance and political momentum of Alhaji Atiku Abubakar in the race to become the next suitable president of Nigeria in 2019, obviously took an absurd, yet very disturbing and dangerous dimension recently, when the information minister, Alhaji Lai Mohammed, practically issued a warning to the United States of America, not to issue a visa to the presidential candidate of the PDP.
Speaking during an interactive session with media men in Abuja recently, Alhaji Lai Mohammed said that the Nigerian government was aware of the move by the former vice president to lobby the U.S. to lift the visa ban imposed on him, adding that while the U.S. had the prerogative of whom to issue visa, it should be mindful of the timing, in order not to give the impression that Atiku has been endorsed by the U.S. government.
The first question any discerning Nigerian or proud advocate of democracy is bound to ask with this kind of position by the Buhari government is: "Why this and why such remarks should arise at all at this time?" It is bad enough that President Muhammadu Buhari, instead of helping to build a positive image of Nigeria in the global space, has rather consistently embarked on a deliberate policy of de-marketing Nigeria in the eyes of the international community by describing Nigerians as criminals and youths as lazy including applauding when his country has been labeled as fantastically corrupt.
This new ploy to surreptitiously threaten and blackmail the United States with the matter of issuing a visa to Alhaji Atiku Abubakar is so barefaced and yet quite instructive as it is revealing of the real panic which is consuming the Buhari administration in its realization that they are going to be defeated in 2019. The stark reality is the reality of Atiku's probable victory dawns on the APC with every failure of their dubious antics to frighten or intimidate the PDP presidential candidate out of the race crumbles, with each passing day.
This type of unnecessary distraction by the APC is not new as it had reared its ugly head in several deliberate acts of intimidation and panic driven measures by the Buhari administration, including an unwarranted search of Alhaji Atiku's aircraft when he returned from holidays in Dubai. Furthermore, the loud noise-making of sending Nigeria security agencies to go and scratch out some non-existent misdemeanor in Dubai with which to trump up spurious allegations of wrong doing against Atiku are all shameless actions that demonstrate nothing else but fear.
Howbeit, on the shameless remarks of the loquacious Lai Mohammed shameless, it is not quite difficult to identify where his courage to attempt this blackmail derives from. Nigerians will recall that in March 2015, President Barack Obama of the United States released a video where he practically told Nigerians in veiled innuendos who and how to vote in the presidential election between incumbent President Goodluck Jonathan and erstwhile serial contestant General Mohammed Buhari (Rtd).
That video, which later received the opprobrium and denouncement of Nigerians who saw Obama's intervention as condescending and in keeping with the familiar theme of the West telling African nations how to conduct their affairs, was orchestrated by the propaganda machinery of the APC at that time and it was indeed ironic that Nigerians had bought into such an insulting warning couched like a piece of information or advice from a controversial figure like Obama, who presided over what is the most divisive political climate in the US, for decades, just as this present administration has been the most divisive in Nigeria since after the civil war.
The sad reality of the day is that Nigerians have never been more divided in our history than we are at this time and it is perhaps a reflection of that disruptive temper and spirit of anarchy that a Nigerian federal minister of information, will have the boldness to tell another country not to issue visa to its citizen because of the supposed advantage such an action will be interpreted to give the person in an election. Madness!!!
The madness of such a request made by Lai Mohammed can only be understood in the fact that this is a government whose outright quest and agenda is to diminish or suffocate any opposition in a democracy by all means. Luckily, the American government should know better than to listen to this dictatorial rant by an administration that is frightened by the prospect of losing an election it won in the first place with such dubious manipulation and twisting of logic into the realms of blackmail.
The truth is that those in leadership that prompted Lai Mohammed to act in the manner he did may either be mentally retarded, hugely ignorant of modern realities on democracy, extremely perverse or acting in bad faith to believe that it can demand or instruct another country's government on what to do in relation to its travelling policies. The fact that Obama bought into their deceit in 2015 does not mean that President Donald Trump will do the same in 2019. In fact, what Donald Trump thinks about our 'lifeless' president is of common knowledge.
From every reasonable angle of logic, the minister of information, Lai Mohammed spoke too soon and with bias for misinformation as he exhibited gross ignorance of the conclusion reached by the same administration he serves regarding the bogus unsubstantial allegations of corruption on Abubakar Atiku. If the minister Lai Mohammed was not deliberately mischievous, he should have even paused to listen to his compatriot, Professor Itse Sagay, the special adviser to President Buhari on corruption matters, who has stated clearly and categorically that the Nigerian government has no concrete evidence to support its bandied claim of corruption against Alhaji Atiku Abubakar and that the campaign for the 2019 elections should be issues based and not smear campaigns filled with attacks and slander on personalities.
From Lai Mohammed's comments, it is now obvious, that the APC had planned to use the outcome of Atiku's visa request to confuse the electorate into believing that America is against him, but the obvious positive signals of neutrality and non-discrimination coming out of the United States has led to growing frustration in the Buhari administration, which has now led Lai Mohammed to cry out in fear and desperation as obvious defeat stares them glaringly in the face in 2019.
Interestingly, Alhaji Atiku Abubakar is going about his campaign with admirable zeal and conviction, by refusing to join issues with his detractors and engaging in a mud-slinging exchange, irrespective of the dirty tricks of Lai Mohammed and his ilk to infringe on his human rights and cast aspersions on his personality.
That Atiku Abubakar has maintained his impressive discipline and authority like a seasoned statesman befitting of the status of a former vice president by taking firm and decisive positions on issues, even in campaign mode, should constantly reassure Nigerians that we already have a president in waiting who will not be a "Baba Go Slow" and may not take almost one whole year to form a cabinet or another one to sign a budget.
There is absolutely no doubt in the minds of many Nigerians now that the Buhari government has failed woefully especially in all the things they deceived Nigerians that they will do if elected into power. Even the most rabid supporters of this government know that they are worse off now than they were in 2015. Everything has simply collapsed in Nigeria. Food is so expensive and we cannot even see the power they claim to have generated.
The government claims that it is doing roads in the south-east, but those who travel from Onitsha to Ebonyi will confirm that virtually all the roads in the south-east are nightmares to travel on. Only four columns have been constructed on the site of the second Niger Bridge in three years, the achool feeding programme is a complete mess, the railways need trillions of dollars to be completed and we have been borrowing from the Chinese to the extent that the next three generations may not be free from that debt if Buhari returns for a second term.
The ordinary man and woman on the street of Nigeria is hungry and instead of putting structures in place, the Buhari government is dashing them "trader moni," which will not buy anything because things are so expensive. There is strike everywhere; civil servants, lecturers, doctors, petroleum workers.
The Buhari administration claimed they would not pay fuel subsidy, but from what we are hearing now the present government is spending far more than the past government on fuel subsidy and yet they increased the pump price of fuel and they are planning to set aside N90 billion naira for rice subsidy, which means that we may not even be able to afford rice again if ever Buhari comes back for second term. NNPC has become a cesspool of corruption with Buhari as petroleum minister and president. Our Refineries are still in state of comatose, yet so much money is been spent on them.
They lied that Boko Harm captured Nigerian territories in 2015, but they forgot that President Jonathan reclaimed those territories in the six weeks that the 2015 elections were postponed. Today, Boko Haram is not only capturing territories, they are killing soldiers in droves, kidnapping civilians like chickens and collecting ransom from the government regularly, yet Leah Sharibu is still in captivity and we are all silent. To make matters worse, the herdsmen are finishing off in all sections of Nigeria and corruption is thriving amongst the cabal yet, impunity reigns in Buhari's administration with selective persecution, intimidation and harassment of opposition people.
The Buhari government has not made a single dramatic change in the area of corruption fight and the irony is that even those in the government who are faced with corruption allegations have been let go, their passports have been returned to them, their seized properties has been retrieved and they have been pronounced as clean because they either decamped to APC or are leaders in the ruling party.
The monumental weight of these failures and the clear fact that Buhari and APC do not have the capacity or intelligence to solve these problems and redress this terrible situation they have put Nigeria into must be the reason for all the desperation against Alhaji Atiku Abubakar because they know that he has the capacity, intelligence, connections and the impressive track record to turn the fortunes of Nigeria around and bring prosperity back into our country and our lives.
Otherwise, what has granting of visa by another country got to do with the capacity, acceptability and effective strategies to get Nigeria working again, in the election of a sovereign nation like us? What is even the big deal of going to America, when Donald Trump has sounded it loud and clear that he does not even want foreigners to come to America again? Why should a man who wants to become president of a big country like Nigeria make travelling to America one of his campaign points, when we all know that once he becomes president, the same America will urge him to come and visit?
The fact of the matter is that the Buhari administration has simply run out of ideas not just on how to manage this country, but clearly on how to handle and manage the groundswell and phenomenal popularity of Alhaji Abubakar Atiku's huge acceptance, which is growing in quantum leaps with each passing day.
Instead of being more concerned about issues regarding the porosity of our borders which they claim permits all sorts of crime perpetrated by herdsmen and Boko Haram insurgents, they are bellyaching and panicking in desperation over who America permits to visit the United States. This is a clear failure of leadership and focus.
PAY ATTENTION:
What Nigeria needs now is a president who is well focused and has the manifest capacity that can get our economy working again, create jobs for our teeming youths and women, improve the quality of our education and other welfare amenities, deliver quality infrastructure not just on paper but on the ground, address the security situation with the political courage required instead of this sentimental approach that has given the terrorists and herdsmen the upper hand in their killing spree, tackle the issue of power generation and distribution, and sanitize the petroleum sector. That man is Atiku Abubakar and the road-map to get Nigeria working again has been brilliantly set out in the Atiku Plan.
Atiku Abubakar has promised to give every section of Nigeria a sense of belonging in our One Nigeria and most importantly, make Nigeria the envy of the international community for all the right reasons, give Nigerians the chance to live in freedom and be proud of their country, Nigeria, again. So, it is quite obvious that the ploy by Lai Mohammed to blackmail America over this dubious Visa appeal reeks of bias and an admission of failure.
America is not a small country and Americans are wiser than Buhari and Lai Mohammed thinks. American President Donald Trump is a man who believes in America first and has vowed to make America great again.
Alhaji Atiku Abubakar has also vowed to get Nigerian working again and the United States knows that a man who has pledged to make Nigeria work again, especially in the areas of creating jobs and bringing back the pride and identity of the country, which Atiku has shown over the years that he has the capacity and brilliance to achieve, is surely going to be a great asset to the United States, instead of a man who is low, clueless, does not and has not exhibited any sign of modernity or digital compliance as the president of the most populous black nation in Africa.
Disclaimer: The views and opinions expressed here are those of the author and do not necessarily reflect the official policy or position of Legit.ng.
Your own opinion articles are welcome at [email protected]— drop an email telling us what you want to write about and why. More details in
We're ready to trade your news for our money: submit news and photo reports from your area using our Citizen Journalism App.
Contact us if you have any feedback, suggestions, complaints or compliments. We are also available on
Nigeria Latest News: PDP Convention - Atiku Elected as Presidential Candidate |
Source: legit.ng