Tension in Oyo as Ajimobi battles Adelabu, Tegbe for ministerial slot
Posted on
Legit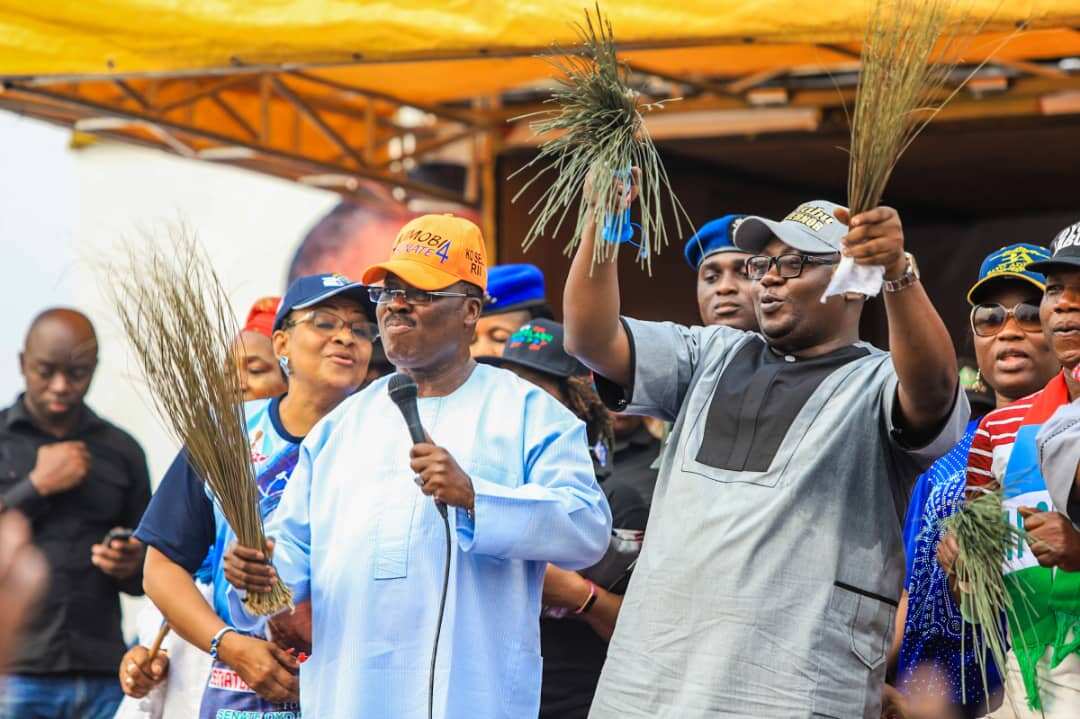 - Oyo APC chieftains are currently locked in a battle of wits ahead of President Muhammadu Buhari's announcement of a new cabinet
- Abiola Ajimobi, the outgoing governor of Oyo state, is said to be interested in filling the slot
- Others interested in the ministerial position for the state are Joseph Tegbe and Adebayo Adelabu, governorship candidate of the party
A report by Sahara Reporters inidcates that all is not well with the Oyo state chapter of the All Progressives Congress (APC).
According to the report, Oyo APC chieftains are currently locked in a battle of wits ahead of President Muhammadu Buhari's announcement of a new cabinet.
Abiola Ajimobi, the outgoing governor of Oyo state, is said to be interested in filling the slot, while Joseph Tegbe, a governorship aspirant and Adebayo Adelabu, governorship candidate of the party are also jostling for the position.
The three-way battle for a ministerial slot is said to be a direct consequence of the party's woeful outing in the general election in Oyo state.
Before he was pressurised into stepping down for Adelabu right at the convention ground for the Oyo APC governorship primary in September 2018, Tegbe was promised ministerial appointment.
In the last few days, however, Ajimobi, who hitherto endorsed Tegbe for ministerial appointment, thinking he would win his own senatorial election, has now been showing interest.
Adelabu, who was also expecting to be elected governor of the state and was therefore supportive of the ministerial slot for Tegbe, is now expecting the party to compensate him with a ministerial position that he can build on to recontest in 2023.
"Ajimobi feels that since he contested but didn't win, he deserves to be minister to maintain his political relevance," a source quoted in the report said.
He continued: "When Tegbe was told to step down for Adelabu, he was promised a ministerial position, under the assumption that Ajimobi and Adelabu were going to win elections. The governor was doing Tegbe's bidding, thinking he and Adelabu would win and then back Tegbe for minister.
"Now, Adelabu, after losing the election, believes he has to be compensated. He also wants a ministerial appointment to keep himself relevant in politics ahead of a second shot at Oyo governorship in 2023. At this point, all three are against one another."
Adebayo Shittu, who resigned his position as minister of communication in order to prosecute his governorship ambition, is also interested.
PAY ATTENTION:
Meanwhile, former governors and deputy governors who are ranking senators in the incoming 9th Senate
According to the report, some of the ex-governors eyeing the Senate top job include Danjuma Goje (Gombe) and Abdullahi Adamu (Nasarawa).
The governors-turned-senators say it would be wrong for them to come to the Senate and be subservient to their former subjects who used to prostrate before 'His Excellency.'
Angry Nigerian says he needs Atiku to become president and sell the country|
Source: legit.ng