Nigerian elites hate Buhari because he doesn't give them free money - Ngige
Posted on
Legit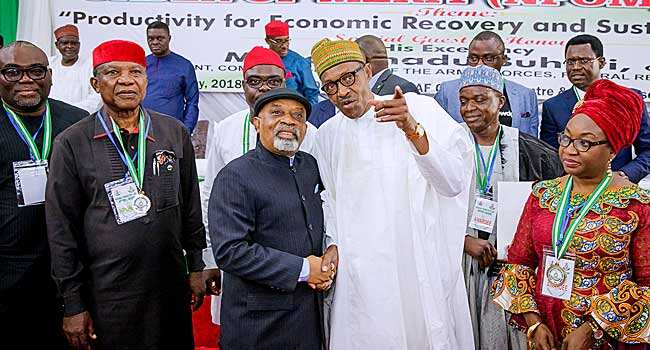 - Chris Ngige, the minister of labour and employment, has opened up as to why influential elites are against the re-election of President Buhari
- Ngige said the alleged gang-up by some Nigerian elites is because they were denied access to the national treasury
- The minister also laughed off the political influence of PDP's vice presidential candidate, Peter Obi, in the south-south region
Following the wide declaration of support for the presidential candidate of Peoples Democratic Party, , by some groups, Chris Ngige, the minister of labour and employment, has opened up as to why influential elites are against the re-election of President Buhari.
Speaking in Abuja, Ngige alleged that some influential Nigerians bent on the president's downfall are doing so because they are not getting money as they used to during the 16-year reign of PDP, The Punch reports.
Legit.ng gathers that the minister, who laughed off the political values of PDP's vice presidential candidate, Peter Obi, also disclosed that Obi's selection will have no influence in the south-east election as people in the region are in full support of the president.
He said: " They want the money that has been trapped by the Treasury Single Account to be pushed down again on the table for them to start taking. That one is no longer possible.
"Peter Obi was my successor in Anambra state. I can tell you that those who are shouting that Obi is this and that are the elite, who are looking for one thing or the other and people who don't believe that Muhammadu Buhari has done something good in their lives because they want money.''
Speaking on the selection of Peter Obi, Ngige, who was also a former governor of Anambra state, refuted the claim that the region automatically belonged to PDP, adding that what happened in 2015 when President Buhari was poorly voted for would not repeat itself.
The minister attributed the outcome of the 2015 presidential election in the south-south to malfunctioning card readers, adding that such incident would not repeat itself.
He said: "Yes the PDP has a vice presidential candidate from my zone (southeast) and I can tell you that it won't be easy for them. Winning of election is all about calculation and strategic positioning and measured steps towards a direction.
"Two things are happening; in 2015 election, there was no voting in most of the south-east and south-south, votes were allocated. The card reader hadn't become functional, it was just new and could be tampered with and at the end of the day most votes were allocated.
"So Muhammadu Buhari was allocated 18,000 votes in the entire Anambra state; is it possible? When my local government Idemili South alone had 80,000 registered voters, Idemili North 200,000 registered voters, you are talking about 280,000 votes so they were allocated votes.
"Even if they want to allocate, they can't do it now because they are not in charge of police and army like that time. They took police, army, navy everything and armoured tank and drove us away, in fact they put a price on my head.
"This time, it won't happen; people will go and cast votes and whatever is cast is what we will announce. We are not interested in rigging or chasing people about with armoured tank."
PAY ATTENTION:
Meanwhile, Legit.ng previously reported that a coalition of aggrieved support groups numbering over 145 had dumped Atiku Abubakar and saying the latter had done well for the country and deserved a second term.
Bello Osaretin, who was the leader of the coalition, said the Peoples Democratic Party would not return to power.
NAIJ.com (naija.ng) -> Legit.ng. We have upgraded to serve you better.
Nigeria Latest News: Father Mbaka On Buhari, Atiku In Nigeria Election 2019 |
Source: legit.ng