COVID-19: Pasuma, others join as Lagos intensifies distribution of face masks
Posted on
Legit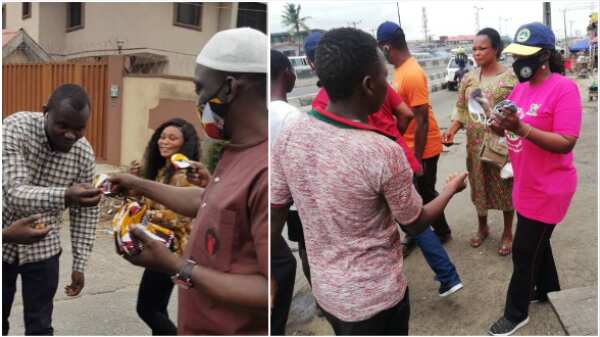 - Some Lagosians have received free masks from the state government
- Fuji musician and comedian Owen Gee shared the free masks in Ikeja and Mushin
- This is part of the measures the state government is taking to reduce the spread of the coronavirus
PAY ATTENTION:
As Lagos state considers full re-opening of the economy, the government is intensifying the distribution of face masks to residents in 57 LGAs/LCDAs.
Popular Fuji musician, Pasuma and comedian Owen Gee supported the Maskup Lagos. They shared the Lagos government's free face masks in the Ikeja and Mushin areas of the state.
This was disclosed in a tweet shared on the official Twitter handle of the Lagos state government.
The year 2020 has been a challenging one for countries all over the world due to the deadly coronavirus pandemic.
Not only has it taken a toll on the economy and health system, but the virus has also claimed the lives of hundreds of thousands all over the world.
Lagos state which has the highest number of COVID-19 cases in is taking measures to stop the spread.
The state has been caught in a very delicate situation between managing the spread of COVID-19 on one hand and managing hunger and sustaining the economy on the other.
This has forced the state government to . The total expenditure for the year 2020 is now N920.5 billion, less by N248 billion from the N1.68 trillion it had budgeted.
continues had reported that as the number of cases in the state continues to rise, the government has said it is running out of bed spaces. This has led the state government to opt for home treatment of less severe cases.
Professor Akin Abayomi, the Lagos state commissioner for health, noted that and isolated in the state as positive cases continue to increase.
PAY ATTENTION:
According to him, patients with mild symptoms will be managed at home.
Despite the challenges, the state is still recording breakthrough as it recently from its isolation facilities This brings the total number of discharged persons in Lagos to 707.
Vox pop: Covid-19 will have a profound effect on education in Nigeria |
Source: legit.ng