Sultan declares end of Ramadan, announces Sunday, May 24, eid-il-fitri day
Posted on
Legit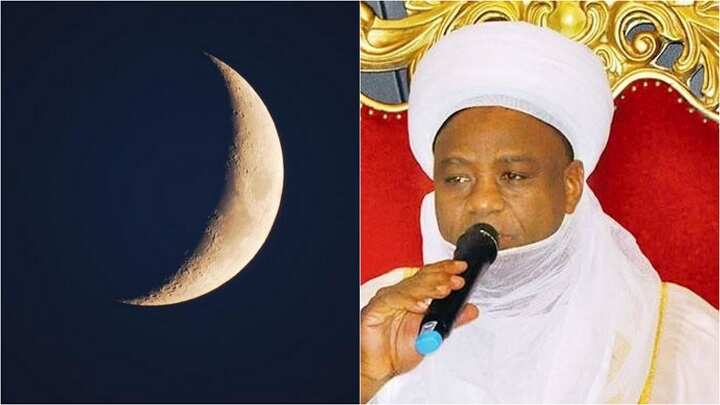 - The Sultan of has declared Sunday, May 24, as the day of Eid-el-Fitr
- Muslims observe the Eid-el-Fitr prayer to mark the end of the Ramadan fast
- Due to the coronavirus pandemic, Muslims have been asked to observe this year's 'Eid' prayers at home with their families in line with the social distancing directive
The Nigerian Supreme Council for Islamic Affairs (NSCIA), under the leadership of its President-General and Sultan of Sokoto, Alhaji Muhammadu Sa'ad III, has formally declared Saturday, May 23, the end of this year's Ramadan fasting.
This was disclosed in a statement by the deputy secretary-general, NSCIA, Prof. Salisu Shehu, said this in a statement.
He noted that there was no proven report of the sighting of the crescent of Shawwal, 1441 AH on the 29th of Ramadan, 1441 AH, therefore, Ramadan fast has complete 30 on Saturday, 23rd May, 2020.
"In this regard, Sunday, May 24, 2020, is hereby declared as 1st Shawwal, 1441 AH and the day of Eid-el-Fitr.
"The council prays that Allah accepts our fasting and other virtuous acts in Ramadan and that we will have peaceful and blissful Eid celebrations.
"May Allah in His Infinite Mercy quicken the eradication of the and all over the world," Shehu said.
Recall that there was of some states in the north over how the forthcoming Eid-el-Fitr prayers should be observed.
While the Sultan gave a directive that Muslims should observe the prayers at home as part of their observance of the COVID-19 protocols to prevent the spread of the virus, some governors, especially in the northern part of the country, eased the lockdown, allowing Muslims to observe congregational prayers.
PAY ATTENTION:
Findings have revealed the reason behind the states lifting the ban on social and religious gathering against the advice of the presidential task force and the NCDC.
According to reports, governors who as they do not want to offend "both the crescent and the cross."
Coronavirus: Is it time to reopen churches, mosques? |
Source: legit.ng