Stop glorifying obesity in the name of body positivity - South African VLogger
Posted on
Legit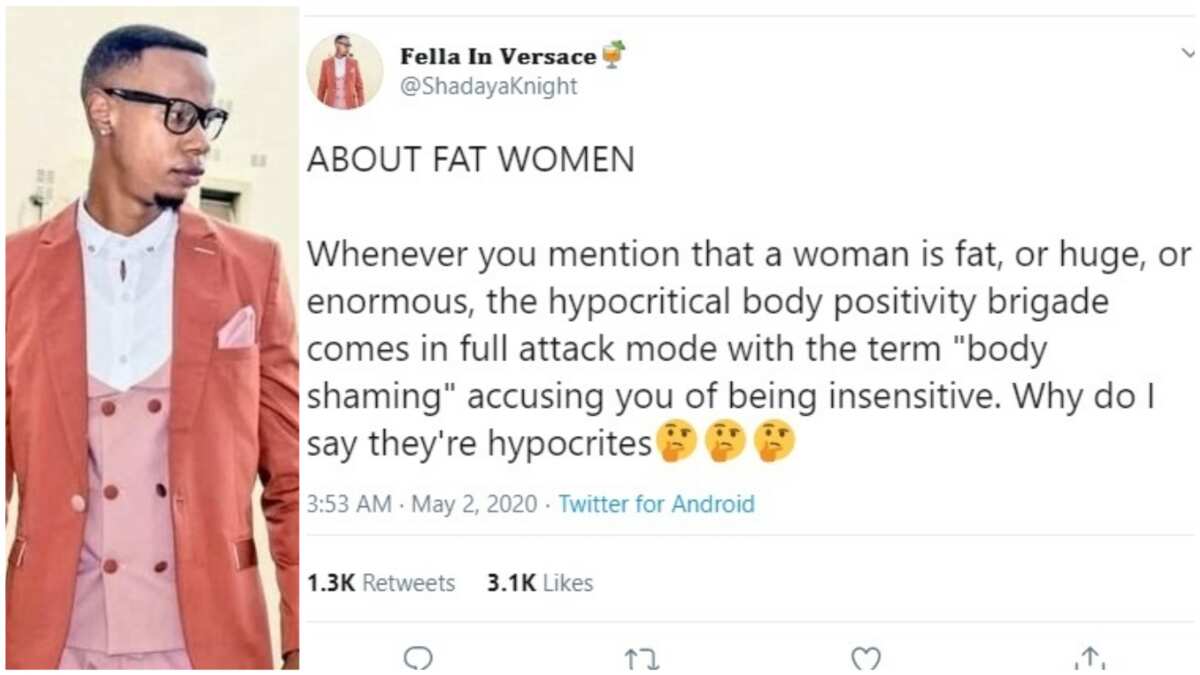 - A South African vlogger recently left social media buzzing with reactions over his views on big women and hypocrisy
- Identified as Shadaya Knight, he called women hypocrites as they would rather be deceived with body positivity talks than take care of their health
- Knight stated that women hate body shaming when it's done to them but are quick to do it to men
- The vlogger urged men not to allow big women make them feel bad for wanting healthy and fit women
PAY ATTENTION:
A South African vlogger identified as Shadaya Knight, has taken to social media to share his thoughts on big women and the hypocrisy they practice when it comes to body shaming people.
According to Knight, big women would rather listen to to body positivity talks than accept they are obese and thus, focus on shedding some weight.
Knight in a series of tweet, stated that big women want people to love them the way they are but have normalized rejecting men for their physical attributes or lack thereof.
PAY ATTENTION:
He tweeted: "ABOUT FAT WOMEN. Whenever you mention that a woman is fat, or huge, or enormous, the hypocritical body positivity brigade comes in full attack mode with the term "body shaming" accusing you of being insensitive. Why do I say they're hypocrites.
"A short man approaches a woman, he'll get rejected, she prefers a tall man. But when a man rejects a fat woman, he's "shallow". It's socially acceptable for a woman to reject a man for his height but a taboo to reject a woman for her weight though it's possible to lose weight but impossible to gain height."
See tweet below:
Advising men not to fall for it,Knight described body positivity talks as psychological mind games to trick men into feeling 'shame for wanting healthy fit women'.
He also likened it to how men are made to feel bad for dating younger women.
PAY ATTENTION:
Knight stated that being on the big side shows the woman lacks self-respect, self-control and laziness, saying they are proof such women never make a good partner as their 'unhealthy bodies show they have unstable minds.'
See the rest of his tweets below:
In other news, Twitter user @a__vanita recently sparked a social media debate online about how much is too much to spend on manicures and pedicures. In a recent tweet, she revealed she had
The bill was handled by her man who sat for more than 2 hours with her in the salon. However, she revealed she took out the nails a week after as they kept falling off.
Relationship Matters: Is it right to confront your partner's bad friend? |
Source: legit.ng