Federal government explains reason coronavirus lockdown may be extended again
Posted on
Legit
- The government believes Nigeria has not reached the level of relaxing control measures
- NCDC boss, Ihekweazu said at a presidential task force briefing that it will take a while before the country pass the current stage
- President extended an initial 14-day lockdown of Abuja, Lagos and Ogun for another 14 days on Monday, April 13
The federal government has implied that the current lockdown of , as well as Lagos and Ogun states, would be extended at the expiration of the 14-day order by President Muhammadu Buhari.
Vanguard reports that the government dropped the hint through the Nigeria Centre for Disease Control (NCDC) on Friday, April 24.
While speaking at the presidential task force on COVID-19's press conference on Friday, NCDC boss, Chikwe Ihekweazu, urged Nigerians to persevere.
He noted that the disease had not reached its peak in the country yet when Nigeria would be able to exit the current stage (of lockdown). He, however, expressed hope that things would get better in due time.
He said "We will eventually exit this stage and restart our normal life but that stage is still a while to come and I ask for your endurance, support and patience. Lots of efforts are going on across the world to find new therapy, to find a vaccine.
"Many families have not been able to bury their dead, rescheduled their marriages and baptism and everything they are doing. In a way, life is in suspense. Everyone recognises the sacrifice Nigerians have made but we really have to encourage one another to continue to a position where we can relax some of that but until we get to that place, we have to continue in the short term."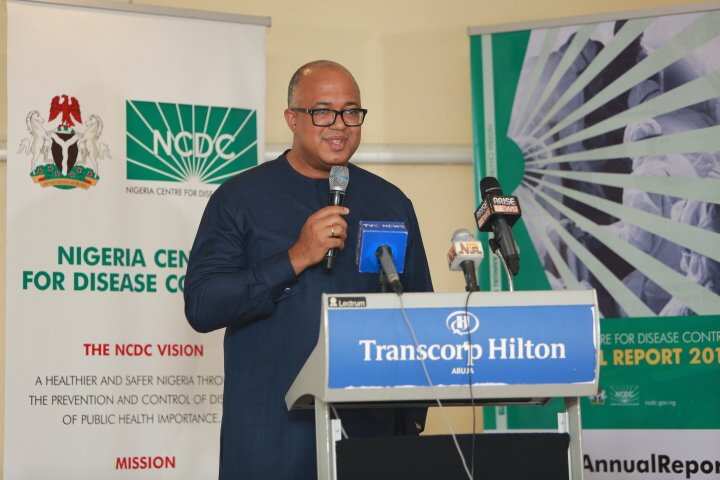 Legit.ng notes that Ihekweazu's words are consistent with his submission just days earlier.
The director-general of the NCDC had said , probably referring to the lockdown.
Ihekweazu made the statement while on a courtesy call to the Katsina state governor, Rt. Hon. Aminu Masari in his office at Government House Katsina.
PAY ATTENTION:
His words: "President Buhari will on Wednesday have a teleconference with the governors and there will be some difficult decisions to be made on how to restart the economy, especially on what to start and what not to start."
Legit.ng had reported that after in the state alongside Ogun and Abuja.
Meanwhile, governors of the 36 states of the federation on Wednesday, April 22, "unanimously" over the next two weeks to check the state-to-state spread of COVID-19.
The governors under the aegis of the Nigeria Governors Forum (NGF) reached the agreement after receiving a briefing from the governors of Lagos, , Oyo and Ogun states who shared their experiences and lessons from the fight against COVID-19.
We have updated to serve you better
Coronavirus: My business has collapsed totally - Man laments | .
Source: legit.ng