USA says it will withdraw $380 Abacha loot if money is stolen in Nigeria
Posted on
Legit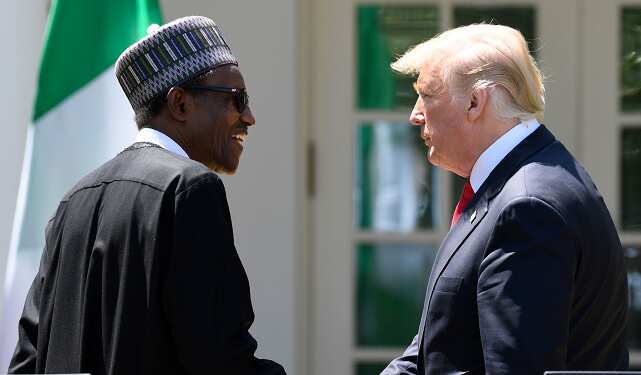 - The United States government tells to ensure that the repatriated 308million Abacha loot is not embezzled in the country
- The US warns that it would take action by collecting the money back from Nigeria if the funds are stolen
- Olanipekun Olukoyede, the secretary of the says he told the representatives of the US government that Nigeria is not a corrupt nation
The States government has told Nigeria that it would recover the $308m looted by the late head of state, Gen Sani Abacha if the funds are embezzled in the country.
The US government gave the warning during the signing of a pact with the federal government for the repatriation of the money to Nigeria, The Nation reports.
Olanipekun Olukoyede, the secretary of the EFCC who was present during the signing of the pact disclosed that the US warned that it would take action by collecting the money back from Nigeria if the funds are stolen.
Olukoyede said he replied by telling the representatives of the US government that though few people might have stolen money, Nigeria is not a corrupt Nation.
Meanwhile,) has demanded that the Nigerian federal government reveal the exact amount of money late General Abacha stole or face legal action in seven days.
This ultimatum was disclosed in a tweet by the agency on Sunday, February 16. SERAP also asked the government to disclose details of how about $5 billion recovered loot was spent since 1999.
Legit.ng gathered that Abacha's loot was hidden in over 12 countries with different legal requirements for the recovery of the funds.
Back in November 2019, Bolaji Owasanoye, the chairman of ICPC, lamented the unwillingness of some of these countries to return some of these assets since they benefit from it.
Owasanoye giving an illustration, noted that the $73 million returned from the UK was short of $12 million which the country argued was administrative cost.
In another news report,, 5,433,394 Nigerians who are on the conditional cash transfer program have started to receive N5,000 each monthly.
This was made known on Monday, February 10, by the National Social Safety Nets Coordinating Office (NASSCO) in a series of tweets.
NASSCO's infographic which was shared on its Twitter page stated that as of January 31, 2020, the beneficiaries are drawn from 1,080,240 households across 32 states.
The office also said from 43,258 communities in 35 states it has captured 9,458,160 individuals on the national social register of poor and vulnerable households.
We keep evolving to serve our readers better.
Nigeria News 2018: Abacha Loot - The Federal Government To Share $322M To Nigerians |
Source: legit.ng