Osinbajo says Muslims and Christians must work together in Nigeria
Posted on
Legit
- Vice president Yemi Osinbajo urges Muslims and Christians in to work in unity to promote peaceful coexistence
- Osinbajo says there is need for the government to work with other stakeholders in promoting harmonious coexistence in Nigeria
- The vice president explains that faith leaders have a duty to play in ensuring harmony amongst people of different religious and ethnic backgrounds in Nigeria
Vice president Yemi Osinbajo has said Muslims and Christians in Nigeria need to work in unity to promote peaceful coexistence in the country.
Osinbajo made the statement on Friday, February 14, at the presidential villa, , when some clergymen paid him a visit, Daily Trust reports.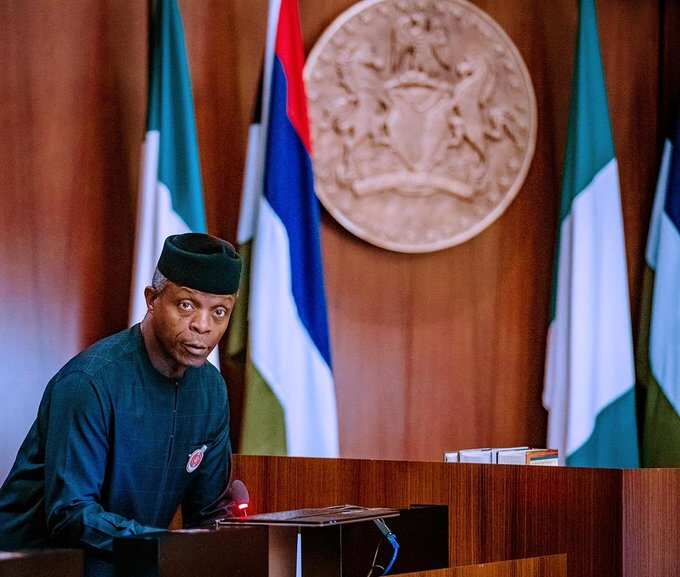 The vice president noted that there was need for the government to work with other stakeholders in promoting harmonious coexistence in Nigeria.
He said faith leaders have a duty to play in ensuring harmony amongst people of different religious and ethnic backgrounds in Nigeria.
Osinbajo stated that despite the challenges faced in the county, Nigerians had resolved to enable everyone to have access to fairness, justice, and equity.
"We should try and bring our communities together. We have a large Muslim and large Christian populations, and we can't do anything without collaboration," he said
"Religious leaders can't wish that away. "Our Constitution guarantees religious freedom not just in words but in practice in Nigeria, again it is a duty that we accept this reality.
Meanwhile, the never promised to make his assets declaration public.
This was revealed by presidential spokesman, Femi Adesina, at a book launch in Abuja on Tuesday, February 11. Adesina was responding to the position of Bishop Matthew Kukah who was the guest speaker at the event.
PAY ATTENTION:
Kukah, a well-respected cleric and fierce critic of the administration, had raised the issue while speaking earlier.
Adesina who reviewed the book, however, responded: "When I resumed work on June 1, 2015, in a private meeting with Mr President, one of the first questions I asked him was 'this promise about public declaration of asset, when are you redeeming it?' And then he answered me, 'can you please show me where that promised was made?'
He said he searched everywhere and there was nowhere the president ever said he would do a public declaration. Nigerians have been talking about Buhari's anti-corruption stance on social media.
We keep evolving to serve our readers better.
Acting President Yemi Osinbajo delivers a speech on the Biafra war |
Source: legit.ng