Best styles for maternity dresses to rock in 2019
Posted on
Legit
What are super stylish gowns for pregnant women to rock in 2019? Clothes for pregnant ladies have a great variety of styles! Future moms can easily create trendy looks with them. See beautiful maternity dresses and read about the latest designs.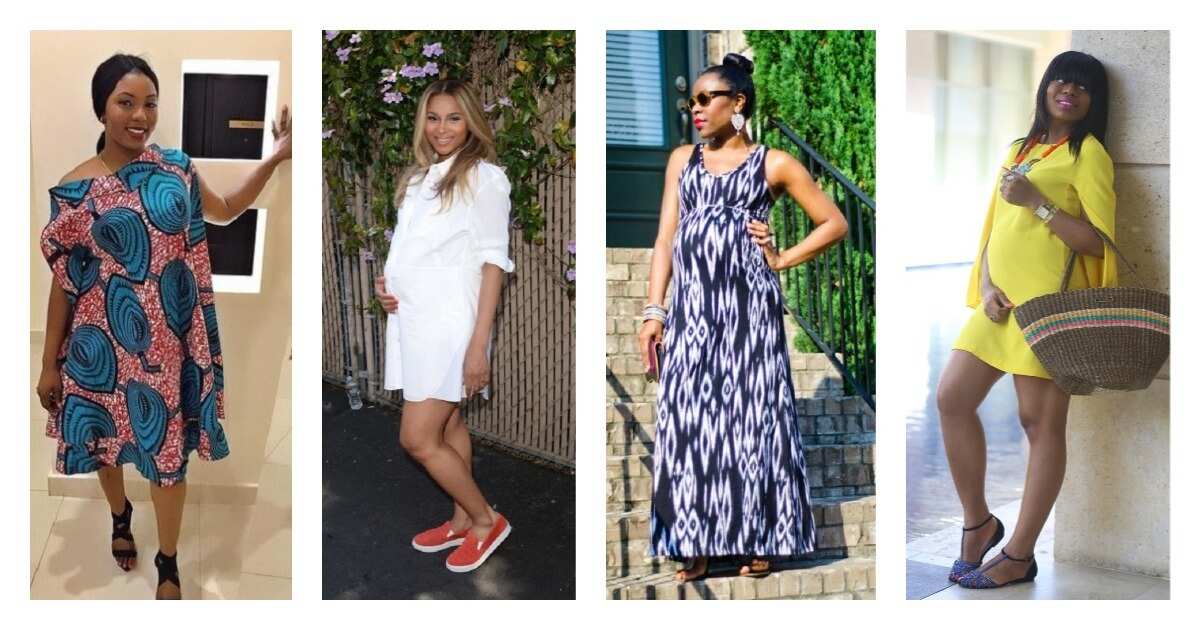 Fortunately, the time when the pregnancy was hidden with shapeless robes has gone. Today, future moms lead an active lifestyle, work and also do not refuse invitations to various celebrations. Modern pregnant women outfits allow any lady to feel confident at any stage of pregnancy. What is pregnancy fashion today? Let's check trendy maternity dresses now.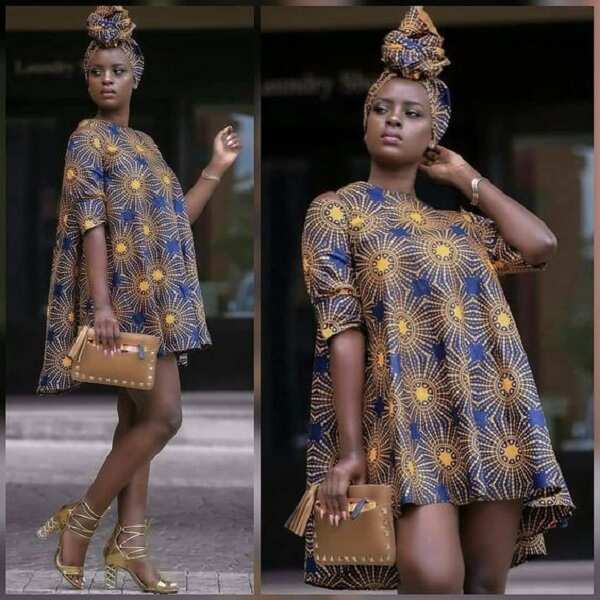 Free maternity dress; photo: www.wearitafrica.com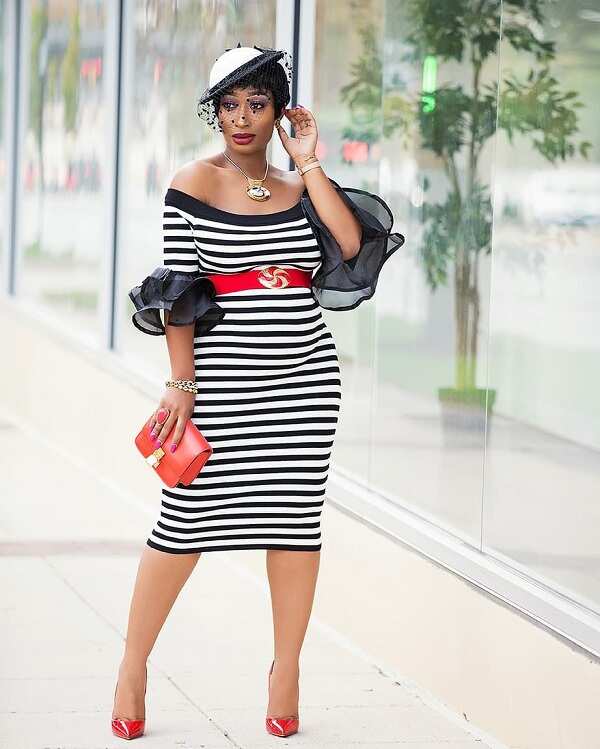 Midi gown with chiffon trim on the sleeves; source: www.bellanaijastyle.com
Gowns for pregnant women 2019
One of the most popular items for pregnant woman's wardrobe is a dress. This season, designers offer a lot of maternity styles. Trendy dresses of this fashion year amaze with their variety. The gowns for pregnant ladies have various types of tailoring: straight, flared, and A-shaped designs with short, midi or long length including mini dresses that can be combined with leggings of various colors.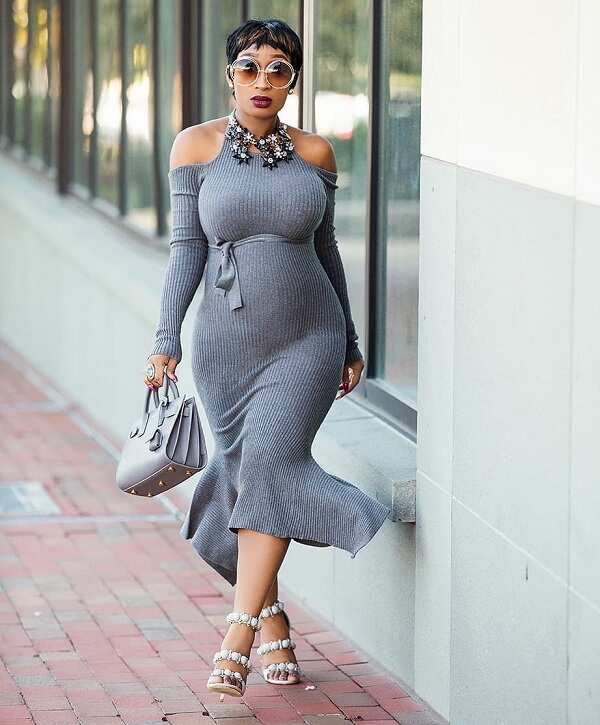 Woolen mermaid dress; source: www.bellanaijastyle.com
When choosing a maternity dress, it is worth paying attention to some nuances. At first, the dress should be comfortable. The fabric should be pleasant to the body and preferably natural, as the skin becomes more sensitive during pregnancy. The dress style can be free or slightly tights the belly (but doesn't press it.) The gown must not hamper your movement. The constant rhythm of life, favorite styles and heels remain on the sidelines during pregnancy.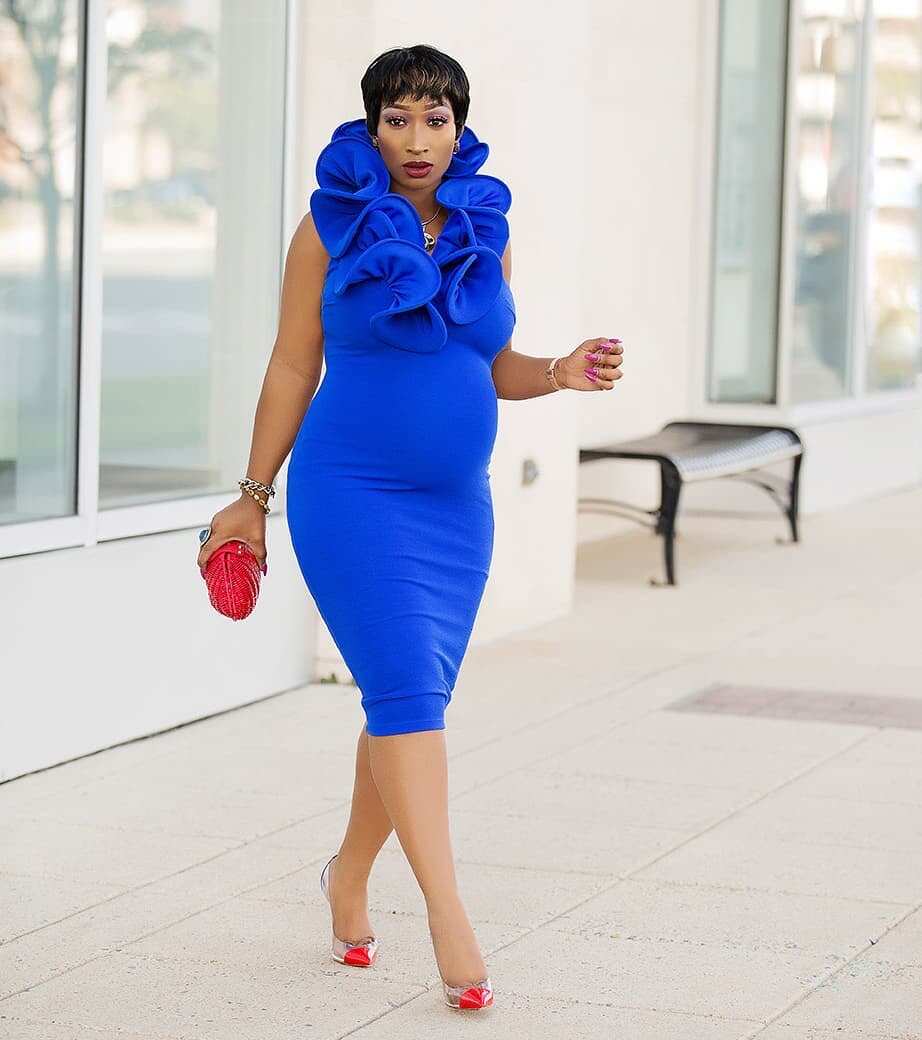 Blue gown with decor; source: www.bellanaijastyle.com
Maternity gowns for evening outfits
The choice of the evening dress style depends on whether you want to emphasize or hide your rounded tummy. The Empire style and Greek style gowns with a high waist made of silk and chiffon look great. Silk dress can be decorated with elements of lace or tulle. Besides, cotton is known to be one of the most environmentally friendly and hygienic materials.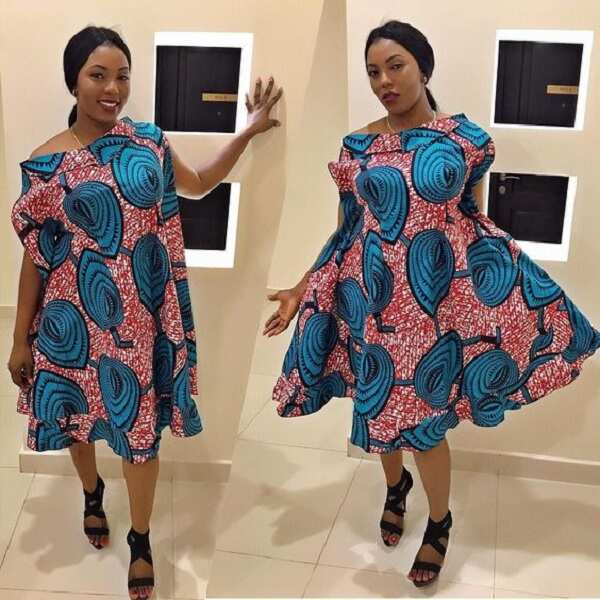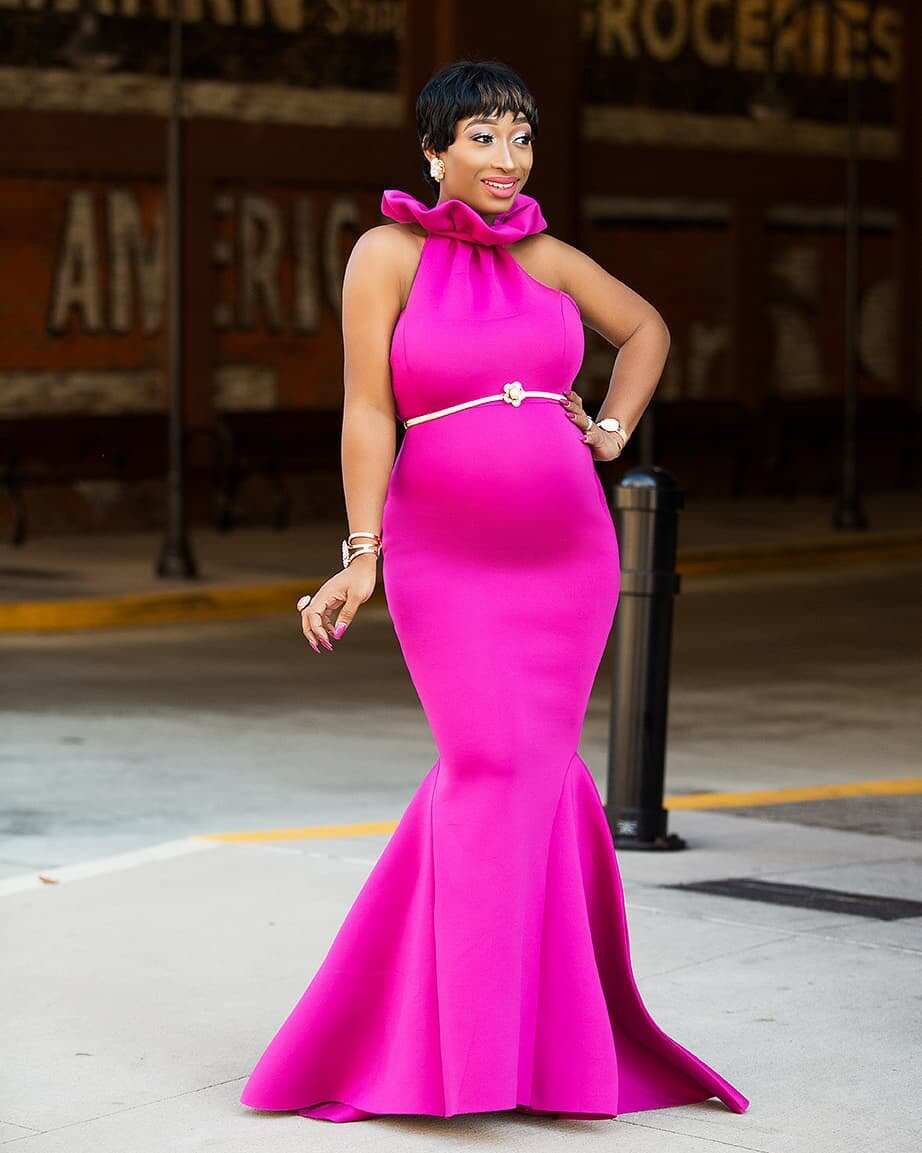 Maxi mermaid dress with trim; source: www.bellanaijastyle.com
When choosing an evening dress, you must first pay attention to the fabric and the lining. The fabric should be natural, good to let the air through. The lining should not be very tight. Otherwise, you feel very hot, and your body will sweat. The next criterion is style and length. They play an important role in providing comfort.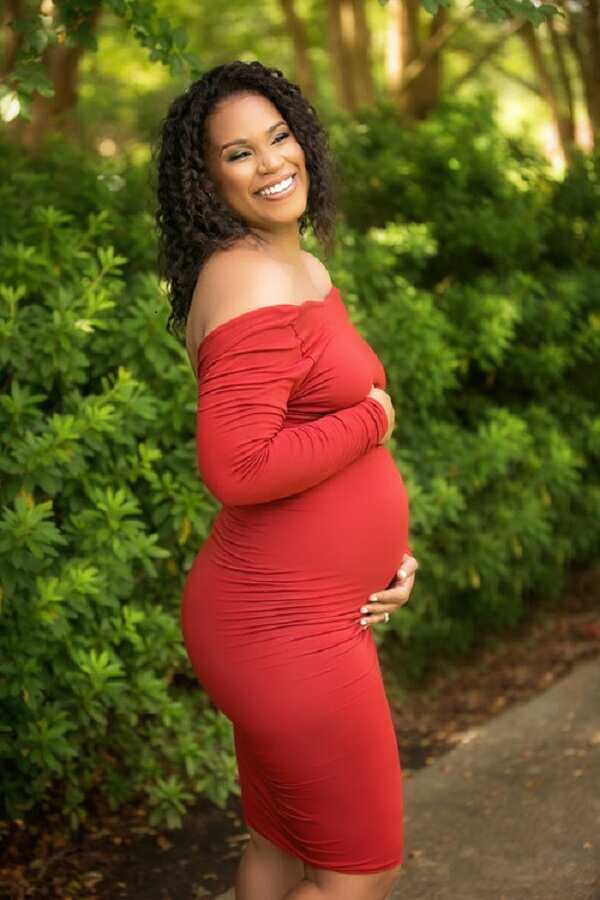 Midi dress with cold shoulders; photo: www.greentangerinephotography.com
The dress case is one of the most popular styles among the evening gowns. It's not surprising, since the dress of this tailoring has a simple design, fits perfectly, and looks very elegant. For the comfort of a pregnant woman, there are special tucks in the abdomen area.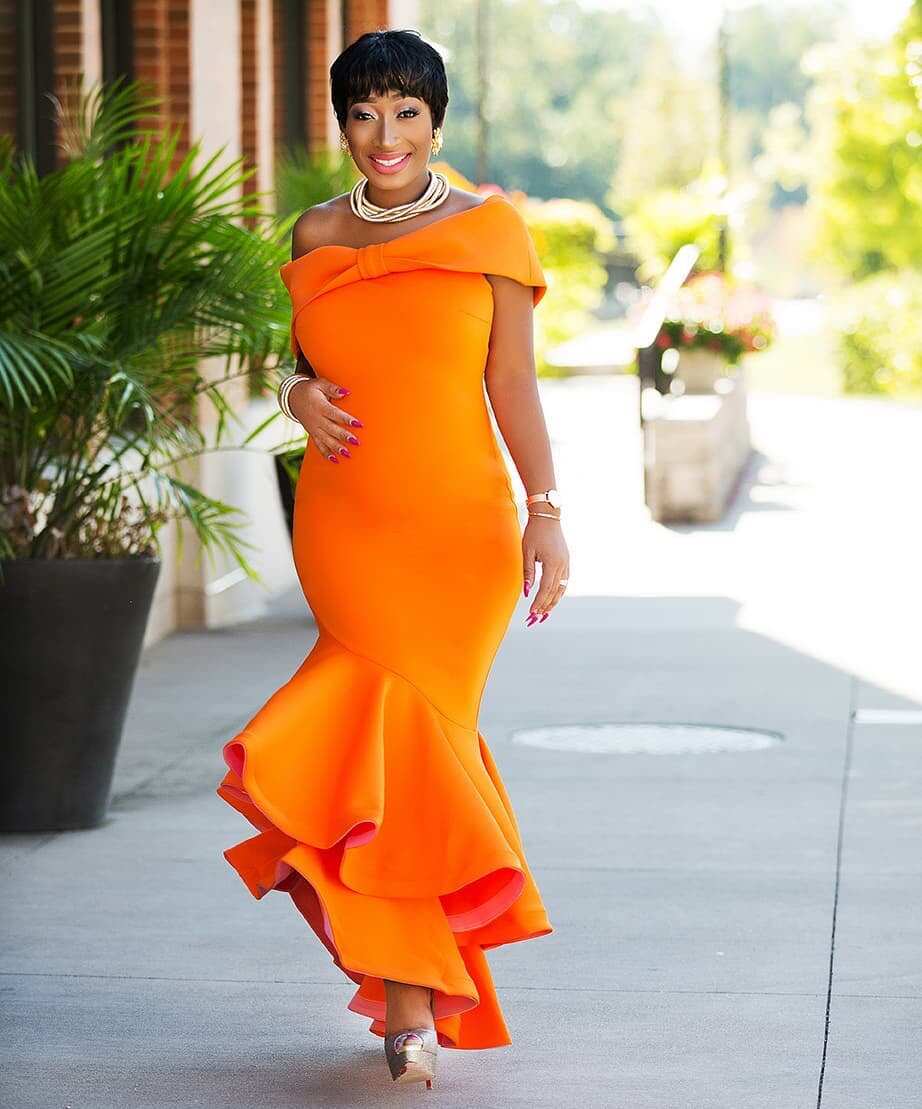 Long dress with asymmetry; source: www.bellanaijastyle.com
Maxi dress is considered one of the most elegant. As a rule, the maxi-dress for pregnant women has a belt under the breast gently emphasizing the tummy. The range of long dresses is quite diverse. It can be both straight and slightly flared models.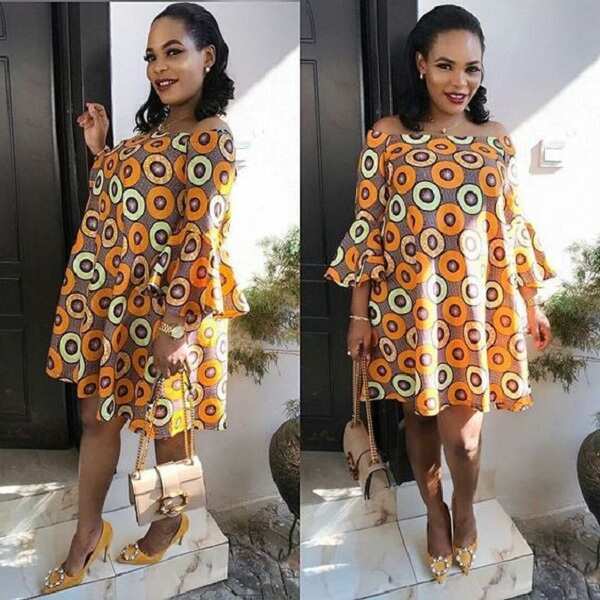 Flared midi dress; photo: www.wearitafrica.com
The dress is very comfortable because it has very loose tailoring. The future mom can wear it during the whole pregnancy.
Eternal classic is a white dress. This gown is one of the most beloved of all the ladies. A pregnant woman can pick up both long and short dress. Do not be afraid to add a lace bolero and a necklace.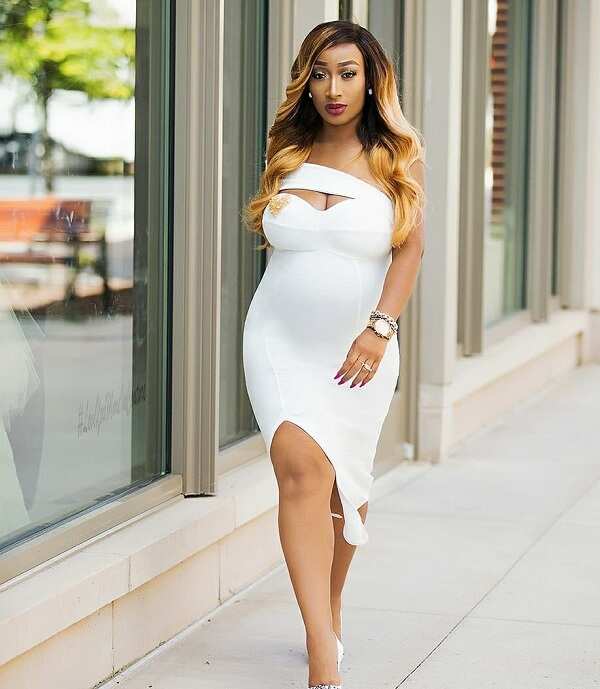 White festive dress; source: www.bellanaijastyle.com
Designers offer deep neckline cutouts and cuts on sleeves, creating an airy image of a pregnant fashionista. Besides, this season they propose dresses with a V-shaped neckline. It puts emphasis on the enlarged chest. Fringe on the sleeves emphasizes slender arms. The floral print, bright embroidery and original inserts with lace highlight your look at any event.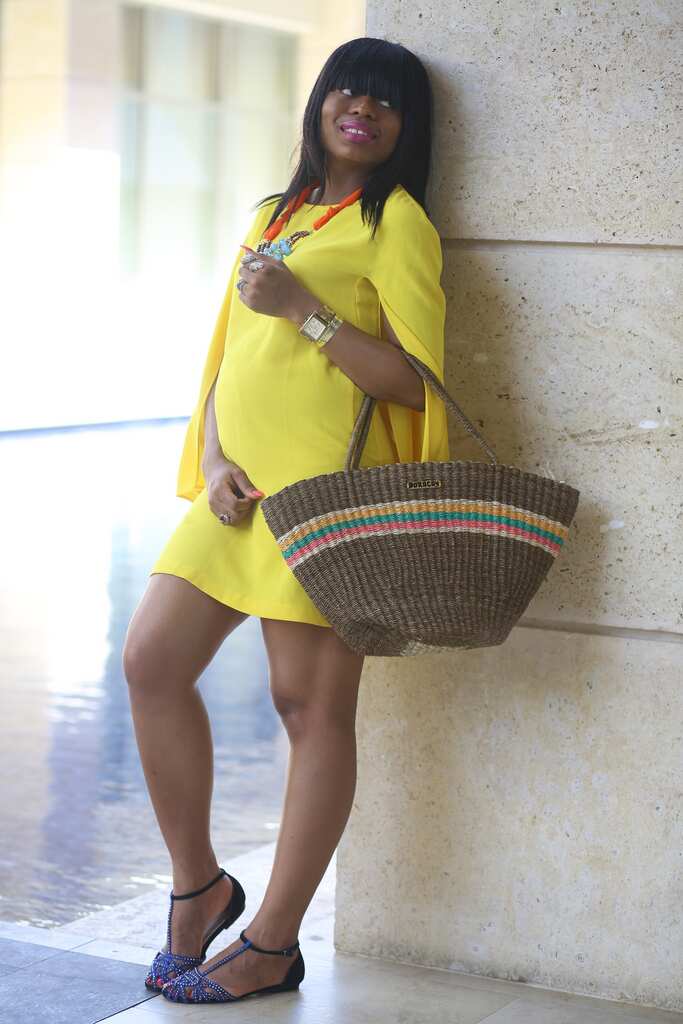 Long sleeved mini dress with cuts; photo: www.fashionghana.com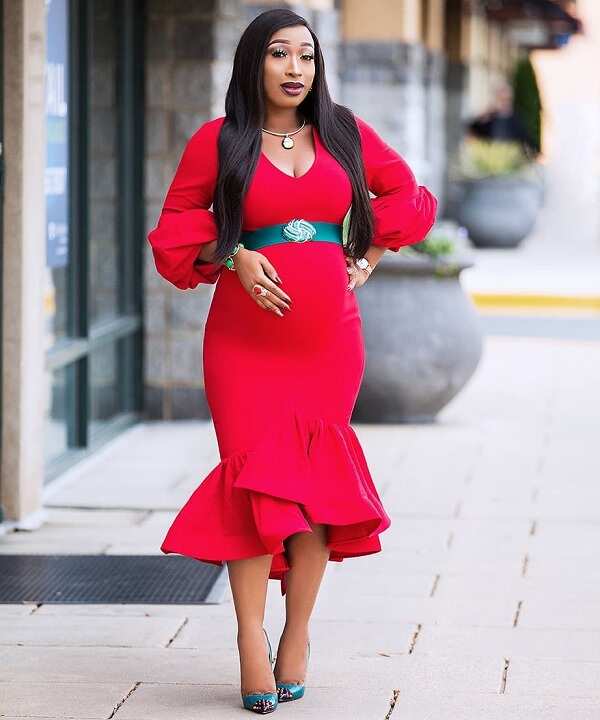 Red maternity dress; source: www.bellanaijastyle.com
Other appropriate colors this season are bright burgundy, red, green, and black.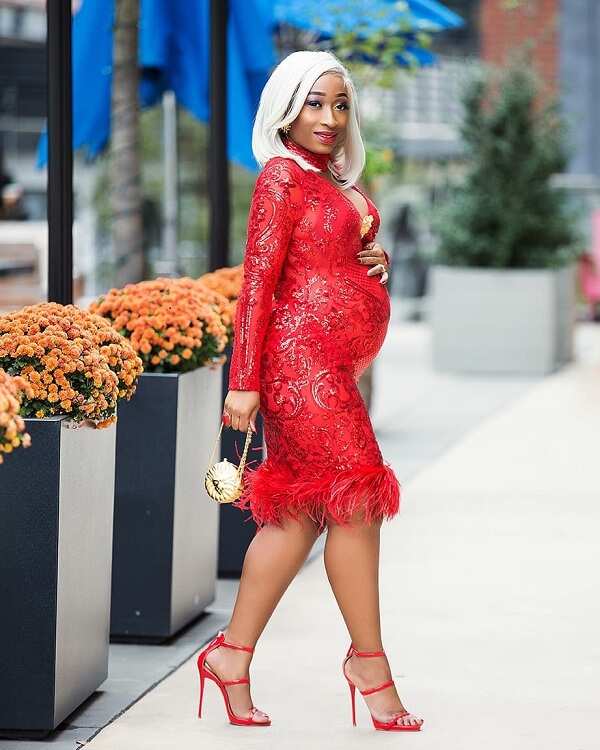 Red evening dress with floral pattern; source: www.bellanaijastyle.com
Trendy prints for evening dresses are large flowers or one flower. It is worth avoiding abstract drawings and geometric prints in maternity styles. They can add extra volume to the figure. At the same time, Ankara fabrics with small delicate patterns are great for evening gowns too.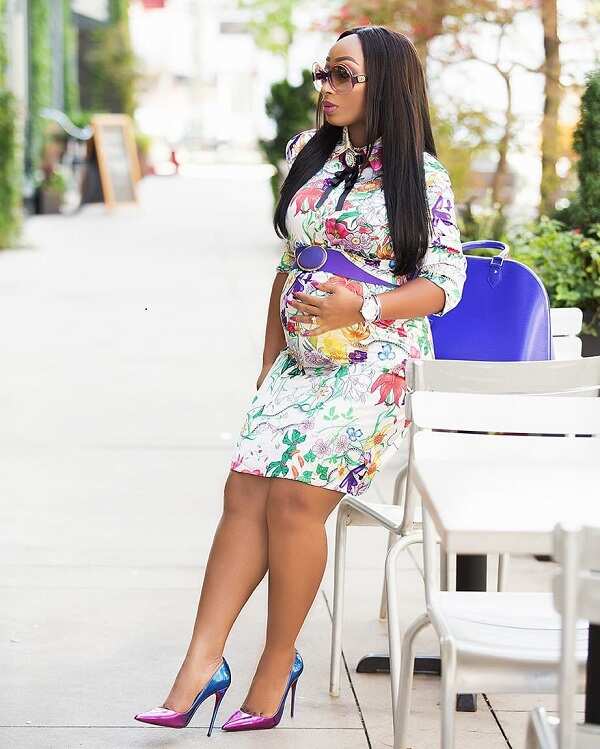 Maternity office style; source: www.bellanaijastyle.com
Casual and office styles of maternity fashion
If the pregnancy has become already very noticeable during your work in the office, it means that you need to comply with the dress code, and then turn to trendy office clothes for pregnant women. Give up shapeless dresses. They spoil the figure and often look completely untidy. Replace them with neat and slightly fitted models that favorably emphasize the figure. You can pay attention to dresses with a high waist or in the Boho style. They perfectly underline the feminine curves.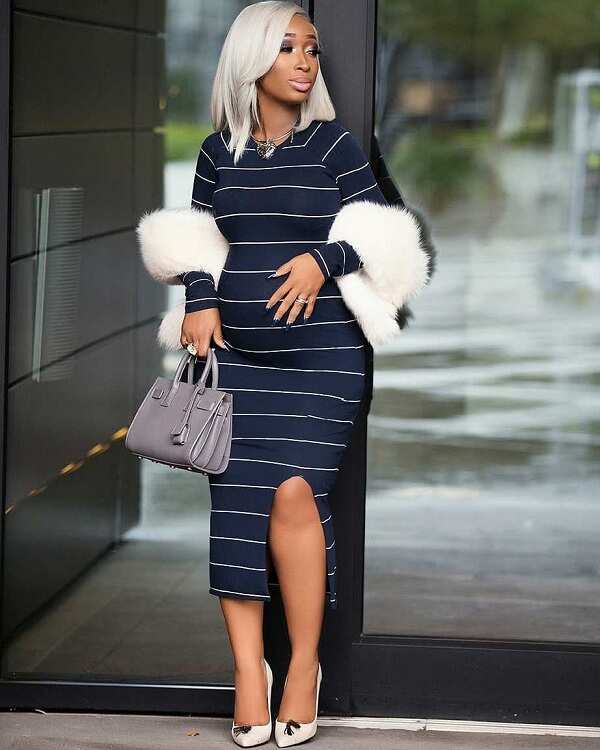 Midi office gown; source: www.bellanaijastyle.com
During pregnancy, dresses can replace your collection of skirts in your office wardrobe completely. If you have to adhere to the strict dress code, give preference to straight or at least not tight-fitting silhouettes in soft pastel colors. A large vertical strip as a print or delicate accessories helps to give creativity to your look.
Avoid excessive use of prints or active embroidery in office outfits. It is better to attract the attention of juicy, deep colors on the classic base of black or gray.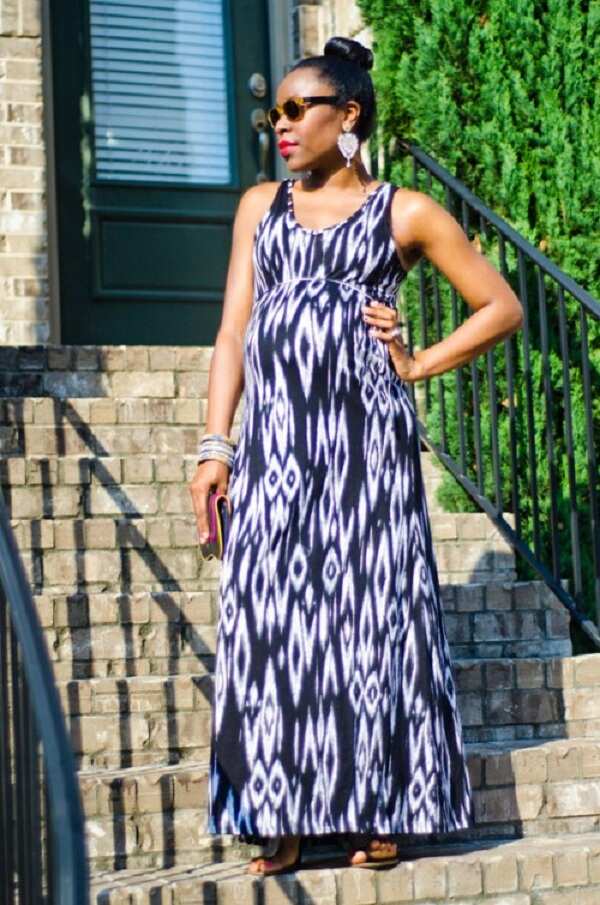 Maternity maxi dress; photo: phwww.gbojom.com.ng
When choosing the office or casual styles pay attention to the fabric's texture and comfort. It is better to choose natural textiles. Take hypoallergenic fabrics like cotton and denim. Such careful selection of fabrics causes the limitation of choice. But it's better to be careful than to deal with unpleasant consequences.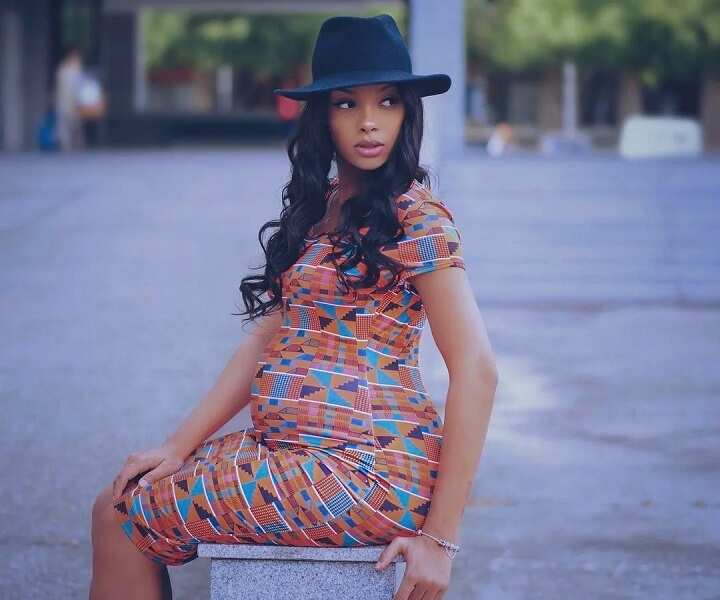 Maternity casual dress; photo: blog.jiji.ng
How to pick up pregnancy gowns?
In any case, do not buy clothes for a later date now. It's obvious advice, but many ladies ignore it. The weight gain occurs in different ways for different women. So it is impossible to determine exactly if the outfits will fit you in the future. It is better to get new clothes when it becomes necessary.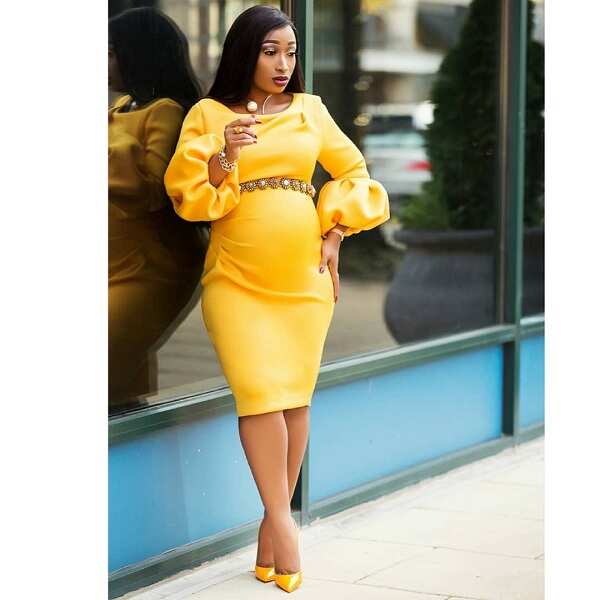 Maternity yellow dress; source: www.bellanaijastyle.com
Make sure that all the main details of the clothes are in their places. Shoulders should not move down or protrude, and armholes rub soft skin. No elements should exert pressure on the rounded abdomen and tight back. Avoid rubber bands or large metal buckles in this area.
For completely free movement, it is better to choose flowing or free silhouettes. Use cuts and inserts in maternity styles.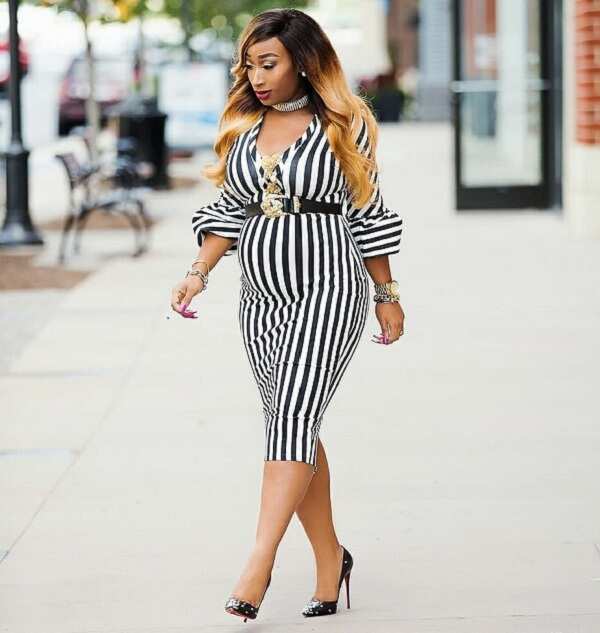 Maternity gown with strips; source: www.bellanaijastyle.com
Trendy prints for pregnant women
Do not be afraid to give in to the latest trends. Pay attention to juicy colors and bright prints, a large strip is especially relevant. The last season trend for pastel tones is also relevant. Use beige, soft blue, and dusty pink colours.
Be open to experiments. A large print carries attention from your growing tummy, especially if it is an unusual pattern on the back or trendy embroidery on the maternity tops in gowns for pregnant.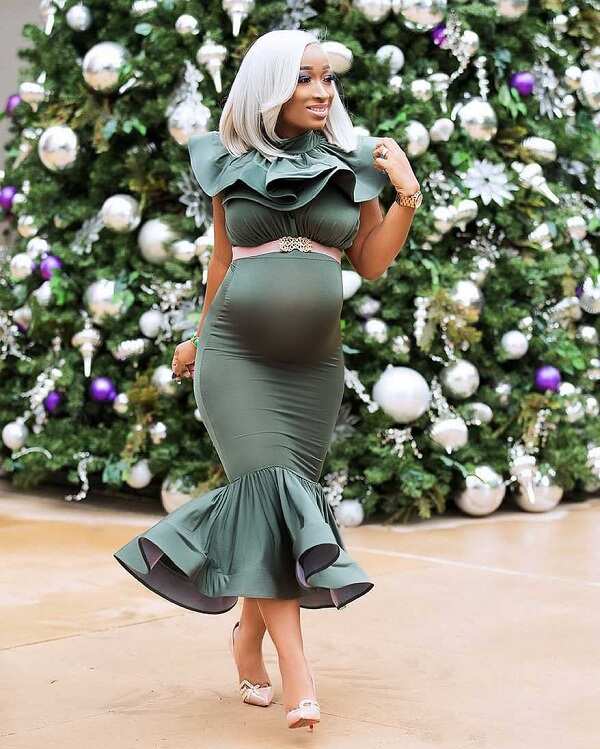 Maternity festive dress with flounces; source: www.bellanaijastyle.com
Chic maternity gowns are a large segment of pregnant women fashion. Follow fashion. Make stunning images with beautiful dresses. Be in trend at any stage of pregnancy.
Source: legit.ng