Jay-Jay Okocha's family: his gorgeous wife and lovely children
Posted on
Legit
Jay-Jay Okocha is a former professional footballer, who has played in many top European clubs and in Nigerian national team. Now, he is a retired player, who fully enjoys happy moments together with his family. What about Jay-Jay Okocha wife and children?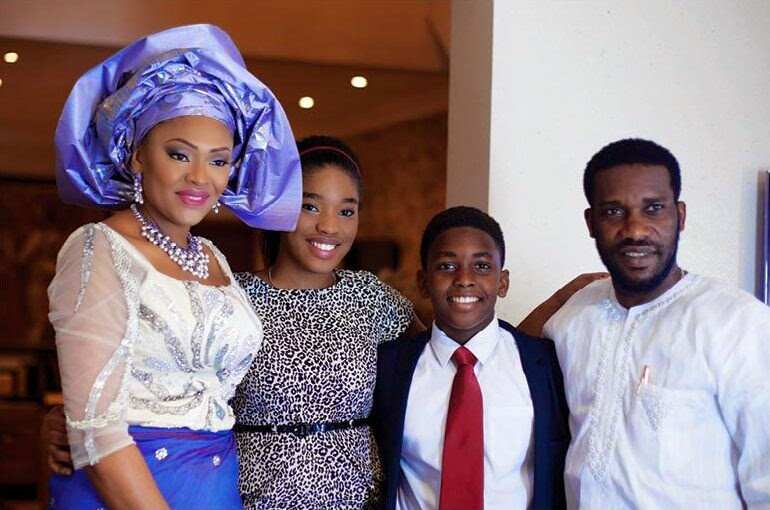 Photo: naijagists.com
Jay-Jay Okocha and his loving family
Without the support of his beloved wife and the strength given to him from his children, who knows if Augustine Azuka "Jay-Jay" Okocha would have become one of the most prominent footballers of all time in Nigeria and the entire African continent. This professional player who retired from his club career in 2008 and is currently 45 years old is famous for his dribbling, technique, confidence, and creativity. After his retirement, he now lives a good and happy life with his loved ones.
Do you want to know more about the family of Jay-Jay Okocha? We have gathered some information about his wife and children for you. Read about Jay-Jay Okocha and wife, and some of the highlights of their relationship. Also, see adorable Jay-Jay Okocha family pictures!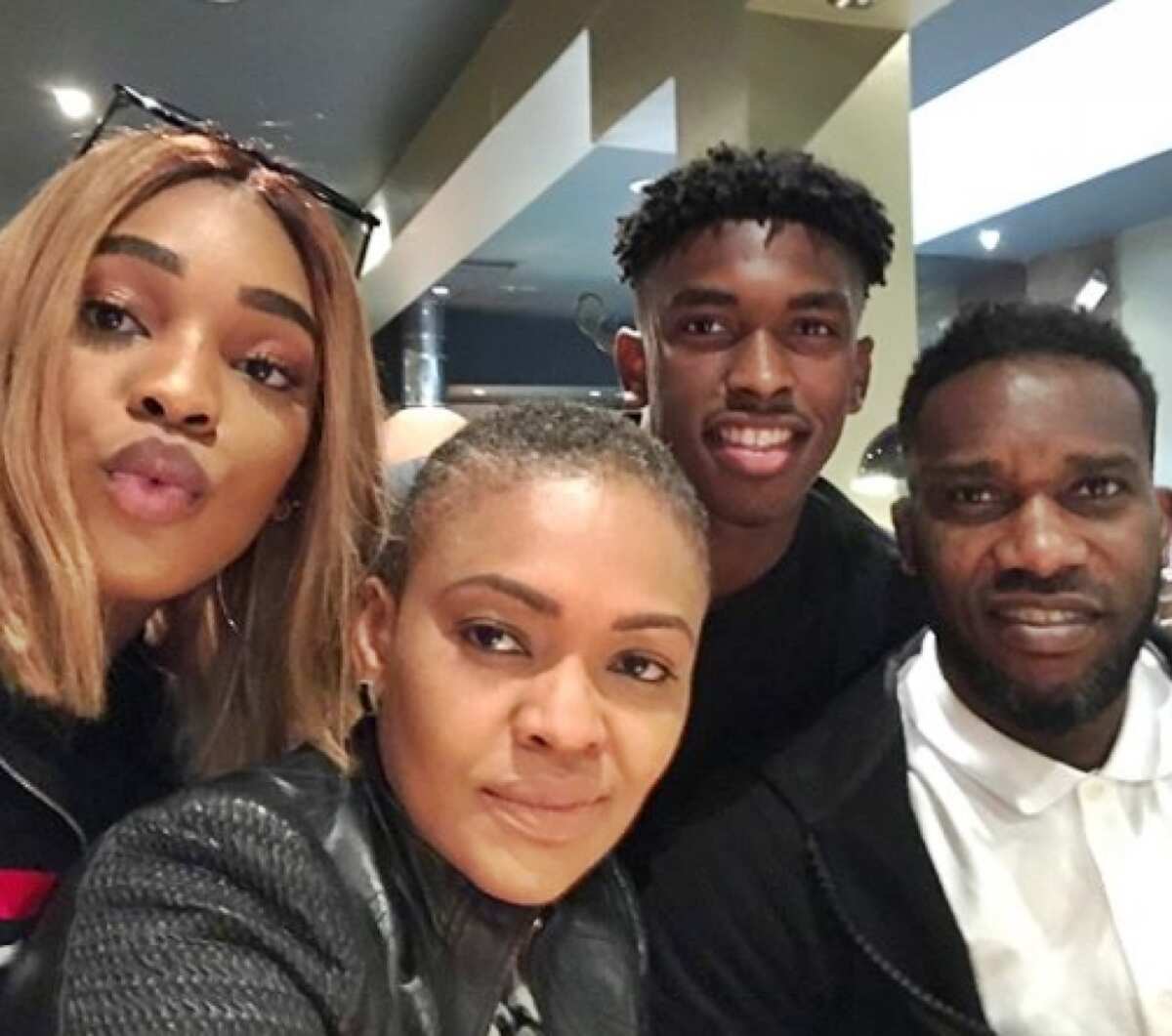 Photo: nairaland.com
Jay Jay Okocha's wife
The wife of the prominent footballer Jay-Jay Okocha is a very beautiful and intelligent woman, which can be seen from the first look at her. The name of Jay-Jay's wife is Nkechi Okocha. During the years of her husband's football career, Nkechi Okocha quite often appeared in the spotlight. She attended various events with the famous footballer, which made her rise up the social ladder and become one of the most popular football wives in Nigeria. However, after the retirement of Jay-Jay Okocha, she has not appeared in public as often as she used to. Still, sometimes she reminds the football society just how elegant and gorgeous she is.
Nkechi Okocha and her husband Jay-Jay are one of the most popular couples in the football world of Nigeria, and they have received a lot of admiration over the years. One of the most wonderful things about them is that they have been together for more than twenty years, and still love each other like all these years ago. They continue making impressions on those people who dream about finding their soulmate, as they often post the lovey-dovey photos on social media.
Even though they seem to be a picture-perfect couple, just like any other married union, they have gone through their fair share of trouble.
Jay-Jay and Nkechi have been a very happy couple over the years, and even if there were misunderstandings, they were able to solve them. JJ Okocha wife is an example of a woman who is truly worth fighting for.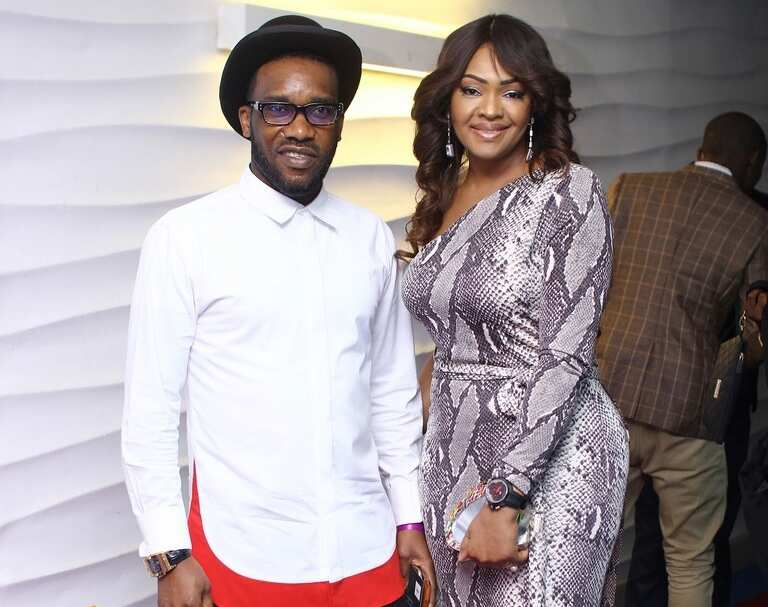 Photo: withinnigeria.com
Jay Jay Okocha son and daughter
The retired footballer and his wife Nkechi are parents to the two beautiful children, who surely have been blessed with some amazing genes. They are already all grown up and ready to go on with their own lives. Their names are Daniella and Ajay. The oldest daughter, Daniella, is a very pretty and smart girl who is assumed to be about twenty years old. She is active on social media and often posts photos that flaunt her stunning figure. She looks a lot like her famous father.
Now we will talk about the younger son of Jay-Jay Okocha, whose name is Ajay. He is the only son of the former footballer, and Jay-Jay is incredibly proud of him. He considers him to be his best friend, as he admitted on social media when he wished Ajay a happy birthday.
It looks like Ajay's father is trying to get him into the football society, as he has some photos with the famous footballers, particularly with the superstar forward from Chelsea, Eden Hazard. Jay-Jay Okocha also takes his son to football games together with him quite often. It is unknown whether Ajay also plays football. Jay Jay Okocha son age is unknown exactly, but people assume that he is one or two years younger than his older sister Daniella.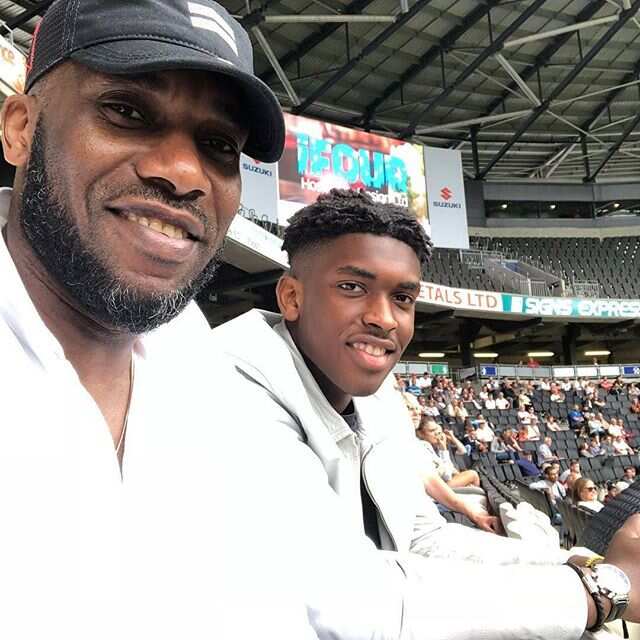 Photo: ghafla.com
Source: legit.ng