Full biography of Olusegun Obasanjo
Posted on
Legit
Former President Olusegun Obasanjo is one of the prominent figures in the history of Nigeria and today you will find out how he reached success and power. Read Olusegun Obasanjo biography and discover more things about this famous political leader!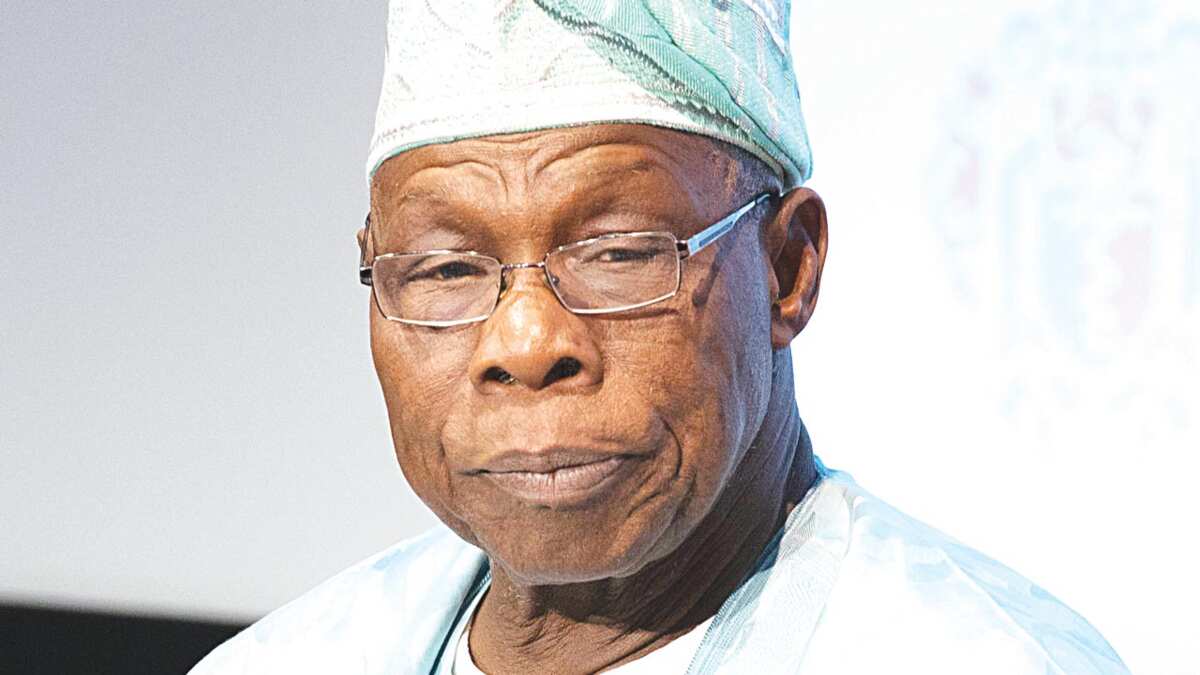 Photo: pulse.ng
Biography of Olusegun Obasanjo
All the Nigerians know that Olusegun Obasanjo is an ex-President of Nigeria, from 1999 to 2007. Aside being a famous political leader, he was also formerly a General of the Nigerian army. He served as Nigeria's military ruler for three years, from 1976 to 1979. He also was a Chairman of the African Union from 2004 to 2006.
The native town of Olusegun Obasanjo is Abeokuta, which is the capital of Ogun State. For those of you who are interested how old is Obasanjo, we also have an answer. Olusegun Obasanjo age is 81 years old, he was born on March 5th, 1937. His parents were Amos Adigun and Ashabi Obasanjo. They decided to give his son the name "Olusegun" because it meant "The Lord is victorious". By the way, the full name of the former President was Olusegun Mathew Okikiola Aremu Obasanjo.
He had his primary education in Ibogun, where he went to the Saint David Ebenezer School in 1948. In 1952, he enrolled in the Baptist Boys' High School in his native city Abeokuta, where he received his secondary education til 1957.
Olusegun Obasanjo lost both of his parents very early. At first, he lost his mother in 1958, and then his father passed away in 1959. Therefore, at the age of 22, he became an orphan. However, the passing of his parents did not prevent him from pursuing his military career and joining the Nigerian army in 1958. He received military education and training in England and India. After completing all the necessary training, Obasanjo was commissioned to become a Nigerian army officer.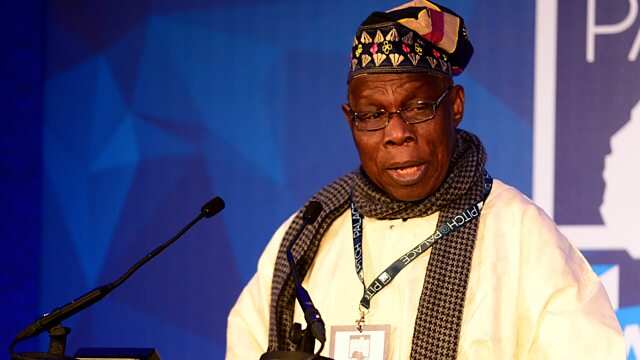 Photo: bbc.co.uk
Olusegun Obasanjo's military career
During his time as a soldier, he served in Kaduna between 1958 and 1959. In 1959, he achieved the position of the second lieutenant, and a year later, in 1960, he gained the title of lieutenant. During this time, he served in the peacekeeping forces in Congo, which was formerly Zaire. Afterwards, he joined the engineering unit, which was the only one in the Nigerian army at the time, and proceeded to become the unit commander.
Obasanjo got a promotion to captain in 1963. He was sent to India, where he worked at the Indian Army Engineering School in Kirkee, soon, he got another promotion – this time to the position of major. In 1965, he came to the Defence Services Staff College, which is in Wellington, India. Later, in the 40th-anniversary book of this educational institution, the retired Colonel R.D. Palsokar described Obasanjo as the best Nigerian officer who was sent to Wellington and mentioned that he was very popular in every circle.
In 1967, Obasanjo once again moved up the career ladder, obtaining the position of the lieutenant colonel. He was appointed to the Second Area command and served in Ibadan for two years from 1967 to 1969. Nineteen sixty-nine was the year he got his colonel position, and got appointed to a few different divisions where he served throughout the years. In 1970, he accepted the surrender of Biafran army, which ended the civil war. In January 1975, he was assigned to be the Federal Commissioner of works and housing by then head of state, General Yakubu Gowon. Later that year, in July, he was appointed to be the Chief of Staff in the supreme headquarters by General Murtala Mohammed. In January 1976, Obasanjo became lieutenant general.
On the 13th of February 1976, Obasanjo was marked for assassination together with some other officials, including the head of state, General Murtala. The security policy, which was accepted by Murtala, was very low-profile, that is why the plotters managed to get easy access to the targets they were planning to assassinate. During the attempted coup, which was lead by Colonel Dimka, General Murtala was murdered. However, Obasanjo managed to escape death, together with the chief of army staff General Theophilus Danjuma. Even though the plotters took over the radio station and announced their coup attempt, Obasanjo together with Danjuma established the command hierarchy and managed to gain control of security in Lagos.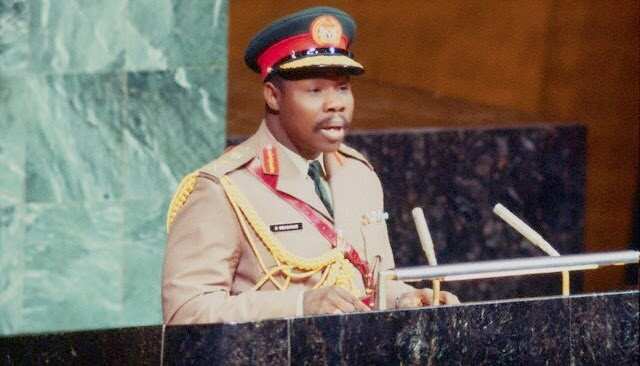 Photo: nigerianeye.com
After the coup attempt, Obasanjo was made the Head of State. He continued the program of restoring the civil government, and improvement of public service. Olusegun Obasanjo served as the Head of State for three years, from 1976 to 1979. When his time ran out, he handed over power to the civilian democratically-elected President Shehu Shagari. This made him the first head of military state, which transferred his power to the civilian government regime peacefully.
During his years as a Head of State, Obasanjo managed to increase the oil revenues and benefit from them. He also strongly invested in the infrastructure. Under Obasanjo's military regime, the educational sphere strongly expanded, as the number of universities significantly increased. However, he was accused of political repressions, especially against the opposing activist Fela Kuti.
In 1995, during the regime of the dictator Sani Abacha, Olusegun Obasanjo he was imprisoned after speaking about the abuse of human rights. The accusations of participation in the alleged coup were fabricated against him, based on his testimony which was gotten through torture. At first, he was sentenced to death, but then his sentence was reduced to thirty years in prison. During his three years in prison, Olusegun Obasanjo became born again Christian. In 1998, when Sani Abacha suddenly passed away, Obasanjo was released from prison. He later described his trial experience as the saddest day of his life.
Only one year after his release, in 1999, Olusegun Obasanjo won the presidential elections, getting 62.6% of the overall vote. Obasanjo officially became the President on the 29th of May, 1999.
He was the first democratically elected President after sixteen years of Nigerian military rule, and this day is now celebrated as a Democracy Day in the country. On May 29th, Nigerians throw the festivals and dinners to celebrate this public holiday and have a lot of fun.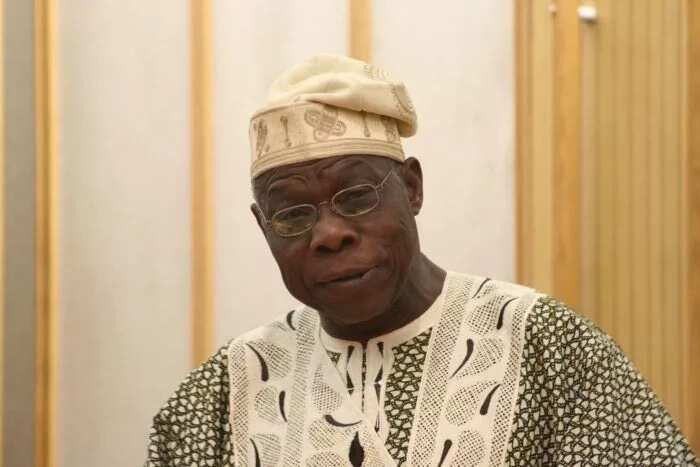 Photo: wdn.com.ng
During his first term, Obasanjo mostly traveled abroad in an attempt to win some support from the West. He also went on peacekeeping missions to Liberia and Sierra-Leone, which he got international praise for. The United States and Britain were happy to have an alliance with the African country whose government is critical of the abusive situation in Zimbabwe under Robert Mugabe, while other countries in Africa had a softer position towards it. Even though some officials had conflicts with Obasanjo and attempted impeachment, the President survived it. Moreover, he was re-elected again in 2003.
Obasanjo won the 2003 election against his main opponent General Muhammadu Buhari, who was also a former military ruler. Obasanjo won by the 61.8 of the public vote. The second term of Obasanjo attracted more criticism, mainly for his decision to give the political asylum to Charles Taylor, the overthrown president of Liberia. There was also the dispute about the Greentree Agreement, which was about withdrawing Nigerian troops from Bakassi Peninsula.
There was controversy around Obasanjo, which related to his plans to change the constitution to serve three terms as President. It is widely known as "Third Term Agenda".
After his presidency, Obasanjo still continued to take part in the Nigerian political life. For instance, he became the chairman of the Board of Trustees organized by PDP, and his responsibilities were nominating people for the governmental positions and controlling the strategy. However, later he resigned from this board and withdrew from any political activities.
Aside being a Chief and holding a lot of different titles related to the chieftaincy, Olusegun Obasanjo is also the Balogun of Owu, as well as the Ekerin Balogun in the Egba clan of Yorubaland.
In December 2017, the former President defended his Ph.D. thesis at the NOUN (National Open University of Nigeria). Now, he holds a Ph.D. degree in Theology. Two years before, he managed to complete his master's degree in this course.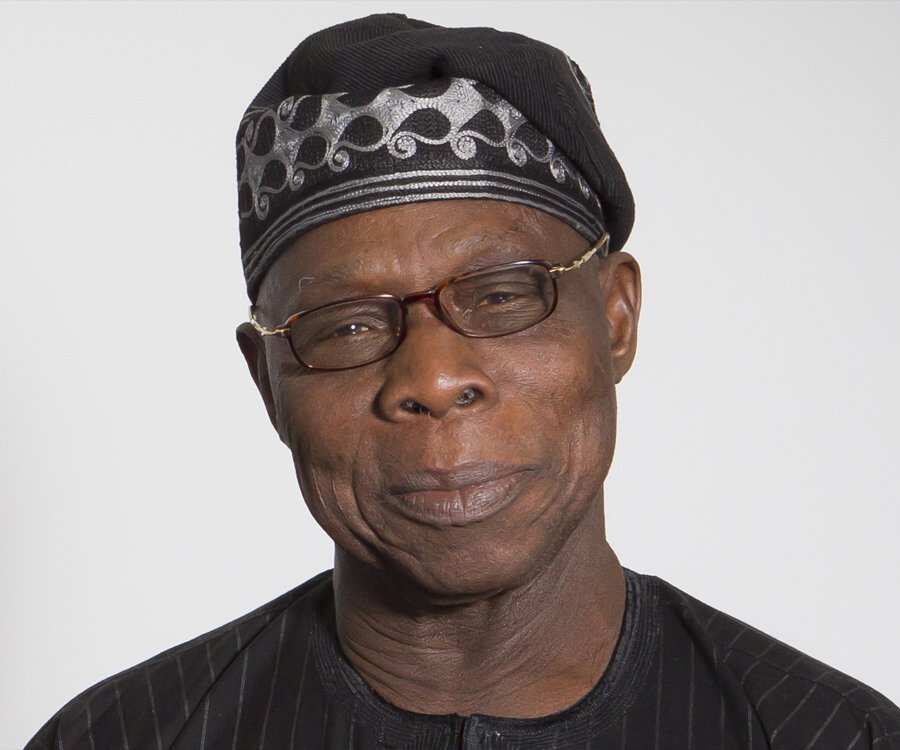 Photo: pulse.ng
Olusegun Obasanjo's wife and family
The former President was married three times, and two of his wives tragically passed away. The first wife of the former head of state was Esther Oluremi Obasanjo. He got married for the second time to Lynda Obasanjo. However, in 1987, Olusegun Obasanjo's wife was ordered out of the car by armed men, and fatally shot when she refused to move quickly.
The third marriage of the President was to Stella Abebe Obasanjo, who in 1999 became the First Lady of Nigeria. Unfortunately, in October 2005, Stella unexpectedly passed away after having an plastic surgery in Spain. Later, in 2009, the doctor who led her surgery was sentenced to a year in prison and was also ordered to pay $176,000 to the former First Lady's son.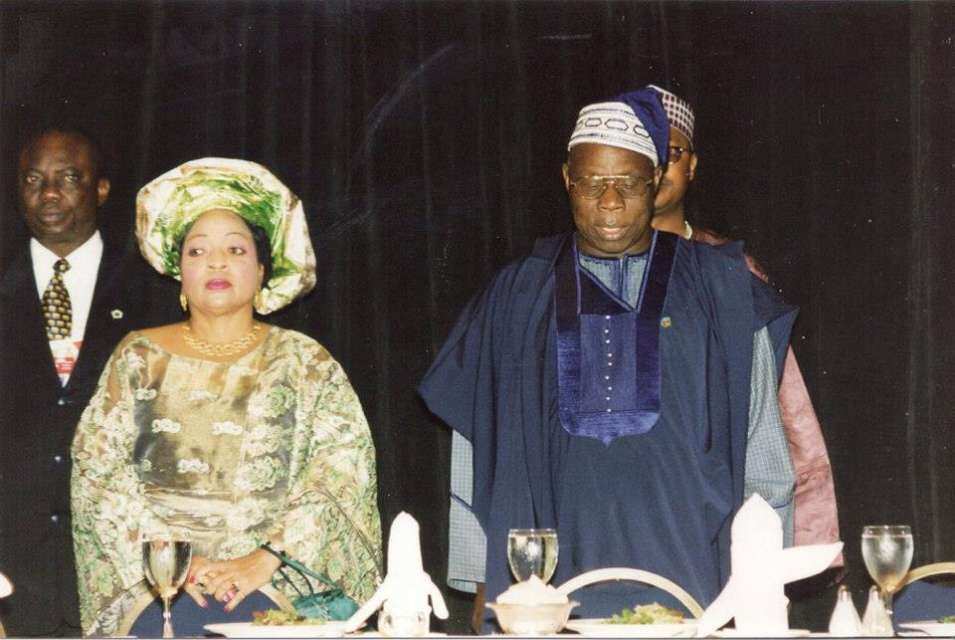 Olusegun Obasanjo and his wife Stella. Photo: pulse.ng
Olusegun Obasanjo's children
The former President of Nigeria is the father of many children. He has twenty children in general, and nineteen of them are biological. The former political leader has several children with each one of his wives and he also adopted his nephew Kunle at an early age and has considered him as a son of his own. Some of Obasanjo's children have become prominent in their own fields.
For example, his oldest daughter with his first wife Oluremi, Dr. Iyabo Obasanjo-Bello, is also a politician, and she used to be a Senator of Ogun State. Finally, another son, Adeboye Obasanjo is currently a Lieutenant Colonel in Jos, Plateau State, at the Third Division.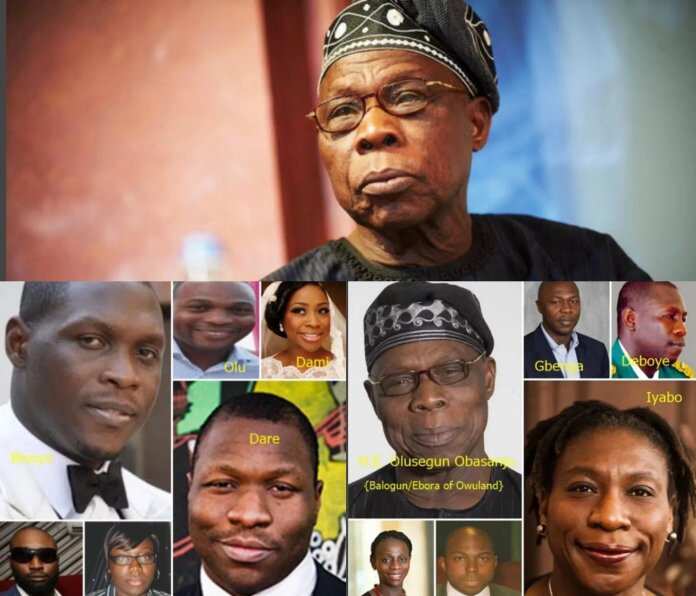 Photo: madailygist.ng
No matter what anyone thinks about Olusegun Obasanjo, he is a truly remarkable politician in Nigeria. Not everyone agree with his views and actions, but he managed to make a name for himself in the military and political life of the country, and his influence will be remembered for a long time.
Source: legit.ng