Neymar Jr pictured 'crushing' on his mum in intimate pose
Posted on
Legit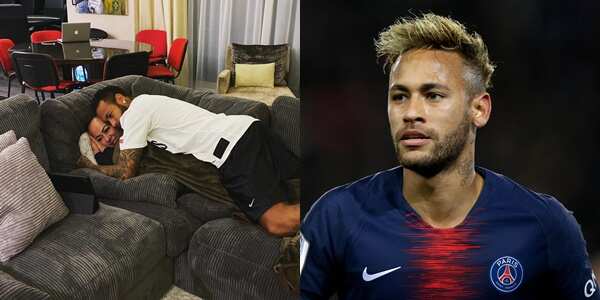 Neymar Jr, embattled Paris-Saint-Germain forward, is not only romantically clung to football on the pitch. Off it, he is as romantic in person the same way his feet do when they make a clinical finish at opponent's goal net.
The Brazilian international recently posted a photo of him emotionally 'crushing' on his mother as he lies on her backside on a black-grey sofa.
In the picture which he posted on the photo-sharing platfrom Instagram, the former Barcelona ace wore a black sport short and white polo, clinging to his mum as they both give a similar mien to the same direction.
While the weird post may not mean anything to the Brazilian superstar, the deluge of reactions from the picture has raised a culture conflict as opinions divide on whether such "intimacy" is permitted in Brazil culture.
Meanwhile, the picture has generated humorous remarks on Twitter also.
''Neymar Smashing her Mum!!!!!!!!!!!!!!!!!!! REALYYYYYYYYYYYYYYYYY',' a user said.
It would be recalled that Neymar had earlier shared a video where he was seen slapping his mum's backside to the irks and surprise of his over one hundred million followers on the photo-sharing platform.
PAY ATTENTION:
Earlier, Legit.ng had reported that for the 2019 Ballon d'Or list was released earlier this week.
The Brazilian forward has endured a difficult year on and off the pitch - having being sidelined for most part of the footballing year.
How I got Amodu and Keshi's jobs after they shunned my advice - Onigbinde |
Source: legit.ng