Jubilation as Omo-Agege doles out cars, tricycles, other items to constituents
Posted on
Legit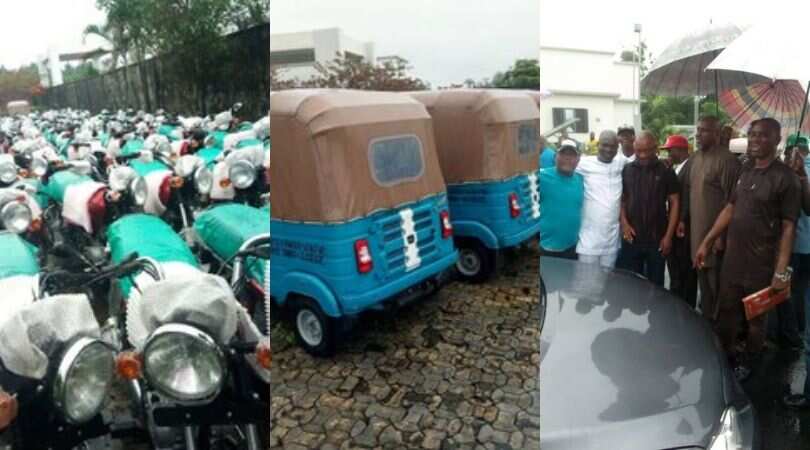 - Senator Ovie Omo-Agege has rolled out empowerment items for people in his constituency
- Beneficiaries include youths and women in the eight local governments that make up the constituency
- The programme took place in Orhomuru, Orogun, the hometown of the deputy Senate president
Deputy President of the Senate, Ovie Omo-Agege, on Friday, August 23, doled out eight Toyota Corolla cars, 43 tricycles, 175 motorcycles, 186 grinding machines and other items to members of his senatorial district.
The items were presented to the beneficiaries at his country home, Orogun in Ughelli North local government area of Delta state, while the beneficiaries were drawn from the eight local government areas of the district.
Omo-Agege was represented by the director-general of his campaign organisation, Mr Francis Onomeyo at the event.
He said the gesture was to appreciate the people for their massive support for the ruling All Progressives Congress (APC).
He also revealed that the empowerment would have been done before the 2019 general elections but had to be postponed due to the pressure of the elections.
Senator Omo-Agege recently expressed shock over and called on law enforcement agencies in the European country to investigate and
"What they did is not only a violent assault against the good image of the Igbo race across the world but an aggressive attack against the traditional norms of a people known to be hardworking and respectful of meaningful contributions by leaders such as Senator Ekweremadu.
"Such disappointing physical abuse also grossly disregards Senator Ekweremadu's democratic antecedents and his longstanding commitment to the cause of his people. But, as he has said out of the usual largeness of his forgiving heart, these people know not what they do," Senator Omo-Agege stated.
Stay with Legit and keep track of the
Anwuli: Meet the UNILAG undergraduate who sells garri for survival |
Source: legit.ng