Hilarious video of Ghanaian man eating fufu on a London train goes viral
Posted on
Legit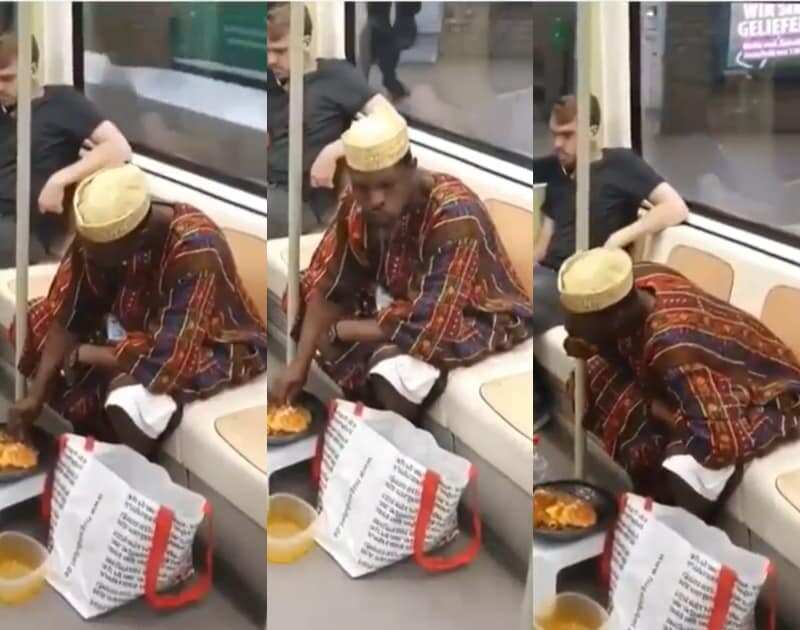 - A Ghanaian man has gone viral in the United Kingdom after being captured eating fufu in a train
- The man who seemed unperturbed by his attitude was seen busily eating as if it were his dining room
- The video has received a lot of attention because people wonder why the man will eat in such a public place
Legit.ng has come across a video involving a Ghanaian man as he eats fufu in a moving train in London.
In the video, the man who wore his smock and cap set a small table as he busily eats the fufu as if it were his home. The man who is believed to be Ghanaian looked unconcerned as he ate while the train moved at its fast speed.
The video is said to be funny and rare since it is surprising to see someone eat in the train like the man was seen doing.
PAY ATTENTION:
It is however surprising as many wonder why someone will take time to set a table and eat in the moving train.
While he was busily eating the fufu, a white man who sat beside him watched him in wonder but did not say anything.
PAY ATTENTION:
At a time when blacks and illegal migrants are facing deportation abroad, it is amazing that the Ghanaian man will defy all odds to eat in the train.
This is one of the few videos that show black men doing very surprising things in a moving train abroad.
PAY ATTENTION:
In a similar news story, Legit.ng has come across a trending video of a
In the video that has received a lot of attention on social media, the white lady was seen eating the fufu in a manner that surprised a lot of people.
The video received a lot of attention because it is rare to see a white lady eating Ghana's local food.
If you had to eat just one type of food for the rest of your life, what would it be? |
Source: legit.ng