Before and after photos of children rescued after being accused of witchcraft
Posted on
Legit
- Anja Ringgren Loven, a Danish aid worker has shared moving transformation photos of two children who were rescued by her organisation after being branded as wizards
- In a post shared on Facebook, Anja, told the story of the two children: Ulo and Iyanam, who were saved from torture and death in 2014
- Five years after the rescue mission, the young children are healthy and under the care of Anja and her organisation
Anja Ringgren Loven, a Danish aid worker known for rescuing stranded and abandoned children in Nigeria has shared details of yet another success story of saving the lives of two Nigerian kids, who were branded as wizards and outcasted in their community.
In a post shared on Facebook, the Danish aid worker revealed that the two kids, Ulo and his cousin, Iyanam were rescued by her partner in 2014, after they were subject to torture, assault because they were believed to be possessed and practicing witchcraft.
With no home or parents, the boys were left for dead after being physically abused. They were however rescued by Land of Hope/ACAEDF Children Center and five years after the rescue mission, the boys look healthy and have had the privilege to good education and proper care.
Anja's post which included before and after photos of the young boys showed how much they have transformed since being rescued by the charity organisation.
The story and photos have garnered a lot of reactions on Facebook, with most social media users thanking Anja and her organisation for rescuing lives of this young children who are victims of flawed cultural beliefs.
Read below:
See below: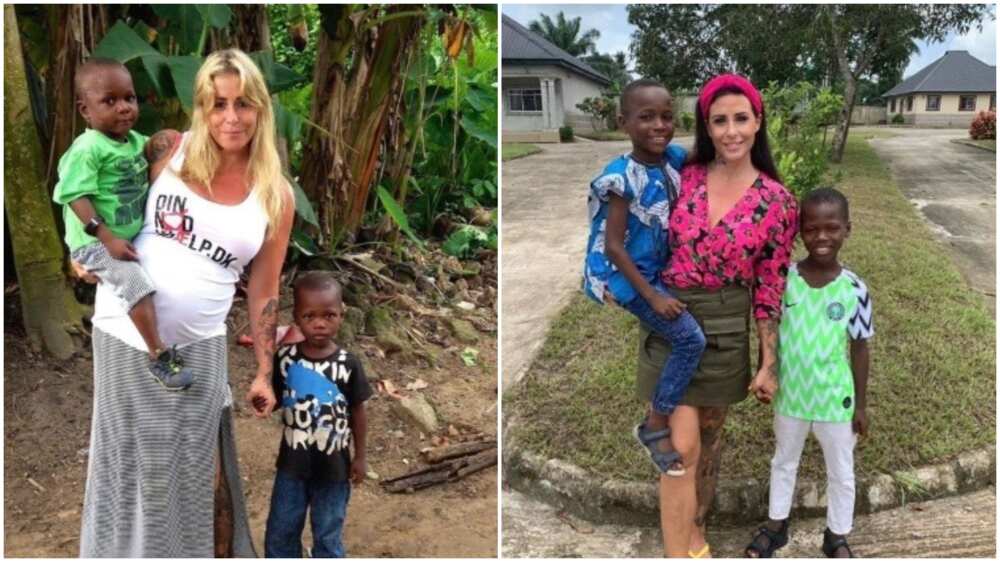 Here are some reactions to her post below:
In like manner,
The kids, Mary and Ekong, have grown up to become happy and healthy kids.
On her Facebook post, Loven noted that she was in Denmark when Mary and Ekong were saved by the members of her team.
PAY ATTENTION:
Do you have news to share? Contact Legit.ng
I lost three children same day, father of triplets says after getting help on TV:
Source: legit.ng