Nigerian Armed Forces rated among Africa's best in latest 2019 global ratings
Posted on
Legit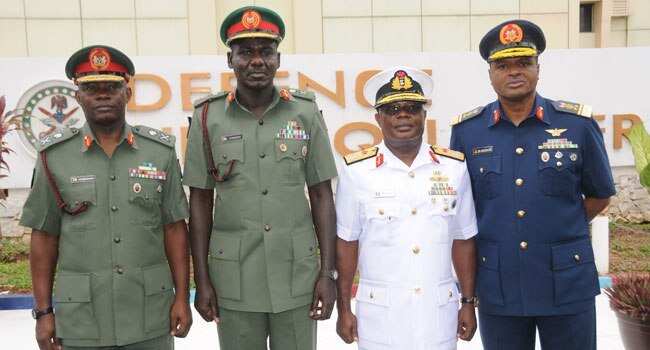 - The Nigerian Armed Forces has been ranked as the 4th-best in Africa and 44th most powerful in the world for the year 2019
- The rating was carried out by a defense website Globalfirepower in its yearly ranking of world military powers
- The website said it considered values such as military manpower, air power, land strength, naval power, resources, logistics, financials and geography to arrive at each nation's ranking
The Nigerian Armed Forces have been rated as the fourth most powerful military in the African continent for the year 2019.
According to a new list of military rankings released by Globalfirepower, the Nigerian military rated 0.7007 on its Power Index score to be positioned behind Egypt, Algeria and South Africa, Africa's top three militaries.
Based on the Power Index score, Nigeria is also ranked as the 44th most powerful military in the world.
Legit.ng gathered that the country's military was similarly ranked last year and maintained its position in the new listing.
Egypt is the highest ranked African country with 12th most powerful military in the world. The Egyptian Armed Forces had a Power Index score of 0.2283.
The second most powerful military in Africa and the 27th in the world belongs to Algeria which had a Power Index of 0.4551.
South Africa's Armed Forces sit in the third position in Africa with a rating of 32nd most powerful in the world. They had a Power Index score of 0.5405.
After Nigeria, the fifth most powerful military in Africa belongs to the Ethiopia which ranked 47th in the world with a Power Index score of 7361.
Angola's military is sixth most powerful in Africa and 58th in the world with its Power Index score of 0.8154.
PAY ATTENTION:
The Kingdom of Morocco's armed forces wraps up the top 7 most powerful military in Africa with a 61st ranking in the world following a Power Index score of 0.8244.
According to Globalfirepower, a defense website, the ranking is achieved by processing the individual and collective values of each nation on the list through an in-house formula to generate the Power Index score. Some of the values, the website says, maye be estimated if original data is unavailable.
These values include military manpower, air power, land strength, naval power, resources, logistics, financials and geography among others.
The 2019 ranking comes at a crucial time for the Nigeria Armed Forces which have been stretched thin fighting decimated insurgent forces in the northeastern part of the country and rampaging bandits across huge parts of the north. Giving additional support to the police to combat incessant kidnappings in both the north and southern parts of the country has also become the daily duty of the Nigerian Armed Forces.
Legit.ng reported earlier that Nigerians were urged by the the Nigerian Police Force against the Army.
PAY ATTENTION:
The appeal was made by the acting spokesman of the DHQ, Colonel Onyema Nwachukwu, following the controversial killing of three policemen and a civilian by soldiers in Taraba.
Nwachukwu reminded Nigerians that the Army and police are two of the country's very important security services.
() -> We keep evolving to serve our readers better.
President Buhari commissions first Nigerian drone - on
Source: legit.ng