Paul Pogba's elder brother says no assurance Frenchman will stay at Man United
Posted on
Legit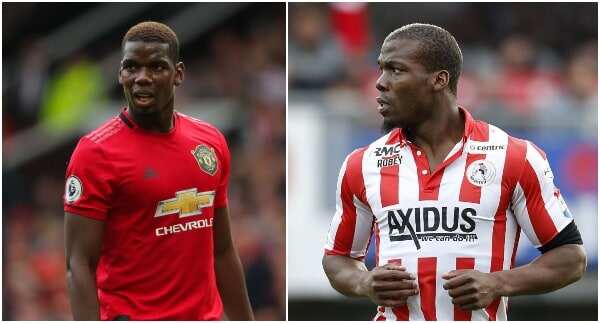 Paul Pogba's brother, Mathias Pogba, has admitted that Real Madrid could still steal the Manchester United star midfielder away from Old Trafford in the summer transfer window if they want.
Mathias, who plies his trade in Spain's second division club, Deportivo Manchego Ciudad Real, did however admit that his brother wasn't nearly worth €200 million.
Mathias remained astute that the missing link in Zinedine Zidane's squad was Paul Pogba, having previously regarded his brothers' playing style as perfect for La Liga.
PAY ATTENTION:
"The player that Zidane is missing is Paul and I think he needs another midfielder, he said.
"It's not impossible for Florentino Perez to sign him. But he is not worth €200m," he told El Chiringuito (Spain).
Despite United getting off to a flawless 4-0 start against Chelsea in the Premier League and Pogba playing tremendously well for the Old Trafford outfit, his future at Manchester remains skeptical.
"It's a delicate situation but the player has his personal goals, if you have to leave, well, that's it,'' he added.
"If you can't stay and play where you are, you can stay and you're done. I can't assure you that he is going to stay at United," he continued.
Mathias further explained that Pogba had his personal targets and winning the Champions league was one of them.
And with Zidane having made the Champions League a regular accolade in his trophy cabinet, Mathias felt that his 26-year-old brother would only stay at United if he felt this was possible.
"We know he wanted to move, but he's not to blame. He's waiting. He works hard and we'll see what happens.
"In football you never know. Until September 2 everything can happen. My brother's dream is to win the Champions League," Mathias said.
PAY ATTENTION:
Mathias' sentiments explains United's summer interests in Paulo Dybala, Lazio's Milinkovic Savic and Sporting CP's Bruno fernandes; as possible partners to create a future Champions League winning midfield.
It is likely that Ole Gunnar Solskjaer will coerce Ed Woodward into finalising such a move in the next transfer window if he hopes to retain the Frenchman.
Earlier, Legit.ng had reported that that all his brothers prefer Spanish football.
Mathias said this after recently completing a move to Spanish fourth division side CD Manchego, with Real Madrid boss Zinedine Zidane having set his eyes on Paul Pogba.
Wait a minute! Do you like to predict and win?
You have that opportunity now to place your bet in one of the fastest rising bookmakers in Nigeria - 1xbet
Click here to place your bet and get the chance to win big. Hurry now!
Okal: Why I quit football for music - female musician |
Source: legit.ng