Brad Pitt doppelganger charges N440k to grace event as actor's lookalike
Posted on
Legit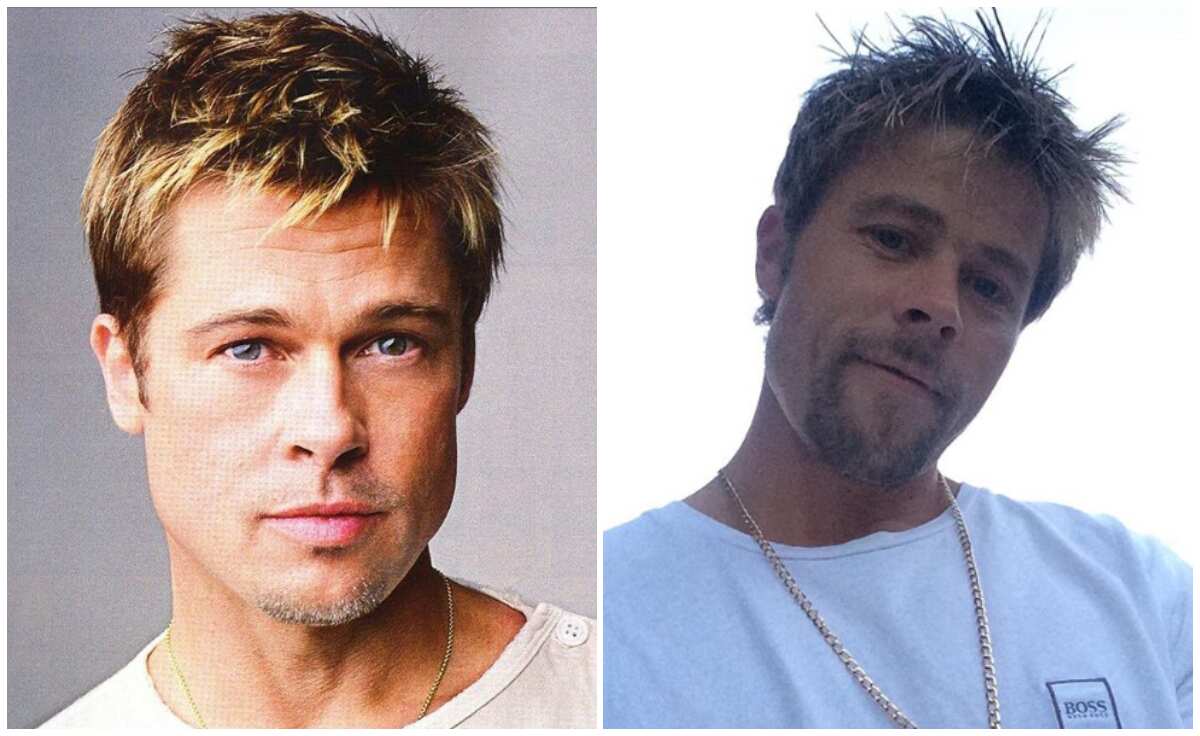 It is not every day people run into their doppelganger. While Brad Pitt might not have seen his 'twin' brother, his lookalike has been making money with the resemblance.
A builder named Nathan Meads is a spitting image of Hollywood actor, Brad Pitt, reveals people constantly mistake him for the actor. He also reveals the attention he gets for looking like the actor broke up his relationship with the mother of his children.
Meads claimed he started being approached by movie enthusiasts who thought he looked like the Hollywood heartthrob 10 years ago.
The builder's look has also made him hit a gold mine as he mostly women seek his attention. He also admits to charging for him to appear at events as Brad Pitt's lookalike.
The attention he is getting is not without its adverse effect as it got so bad that the mother of his children who could no longer tolerate the attention he gets from ladies abandoned him. This same look has earned him a new girlfriend via Facebook.
PAY ATTENTION:
Meads reveals that as a builder, he earns £30K (N13,197,791) a year as builder but charges £1K (N440,000) for appearances as Brad lookalike
For the last two years, he has had a side-career doing meet and greets as the Hollywood superstar, Brad Pitt. He has been invited to events including the launch of footballer Rio Ferdinand's nightclub in Manchester, film premieres and celebrity parties to appear as the actor.
Meads uncanny likeness to Brad Pitt means he can not go anywhere without being stopped. While they ask the ground worker for a photo, a signature and a chat, which his ex-girlfriend found unbearable, his new partner loves the attention he gets.
Meads said of the attention he receives regularly: "I can't go anywhere. I can't go into shops; you see them behind the counter nudging each other, thinking I'm Brad Pitt."
Speaking of his look he said: "I'm not one of those lads who think they're really good looking. I've had quite a few girlfriends, but I've never thought I was one of those men that everyone fancies."
Though he said he does not think he looks like the much loved and celebrated actor, Meads decided to catch in on the attention he is getting as he has grown a goatie to match Pitt's. He said aside that, he says he has not changed his look to enhance the acclaimed resemblance.
And he said that he is not angry with the constant attention, admitting: "If it puts a smile on their face, I'm happy to do it."
While Meads earns a modest £30,000 a year, the real Brad is worth approximately £247 million.
But the groundsman has a dream of quitting his job and becoming a full-time Brad lookalike.
Legit.ng had reported that Hollywood actor , Oyelowo.
Slum Chronicles: New Series That Will Make You Change How You Think About Nigerian Slums
Source: legit.ng