Discover more about the new Tecno Phantom 9
Posted on
Legit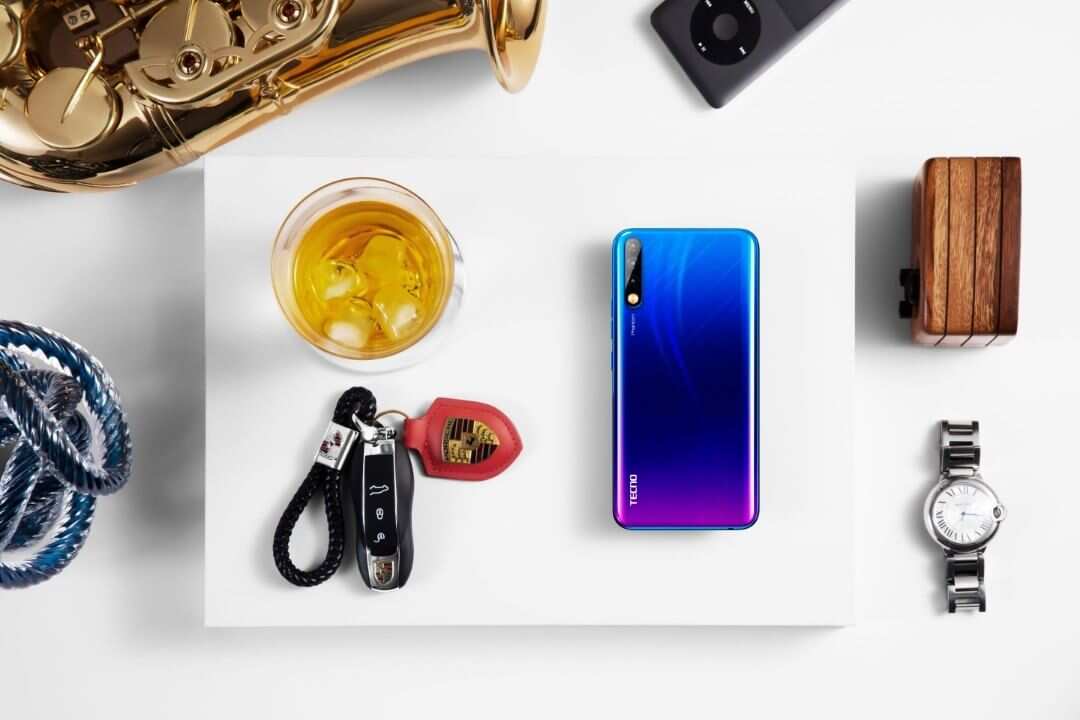 Tecno is one of the brands under the Transsion Group, a renowned smartphone and feature phone manufacturer. The brand is well-known for its pocket-friendly yet feature-packed phones. The brand has managed to win a considerable share of the market in African and Asian countries through the value for money strategy. The brand's most recent product is the Tecno Phantom 9, a feature-packed device that is set to compete with other top brands as the ultimate smartphone.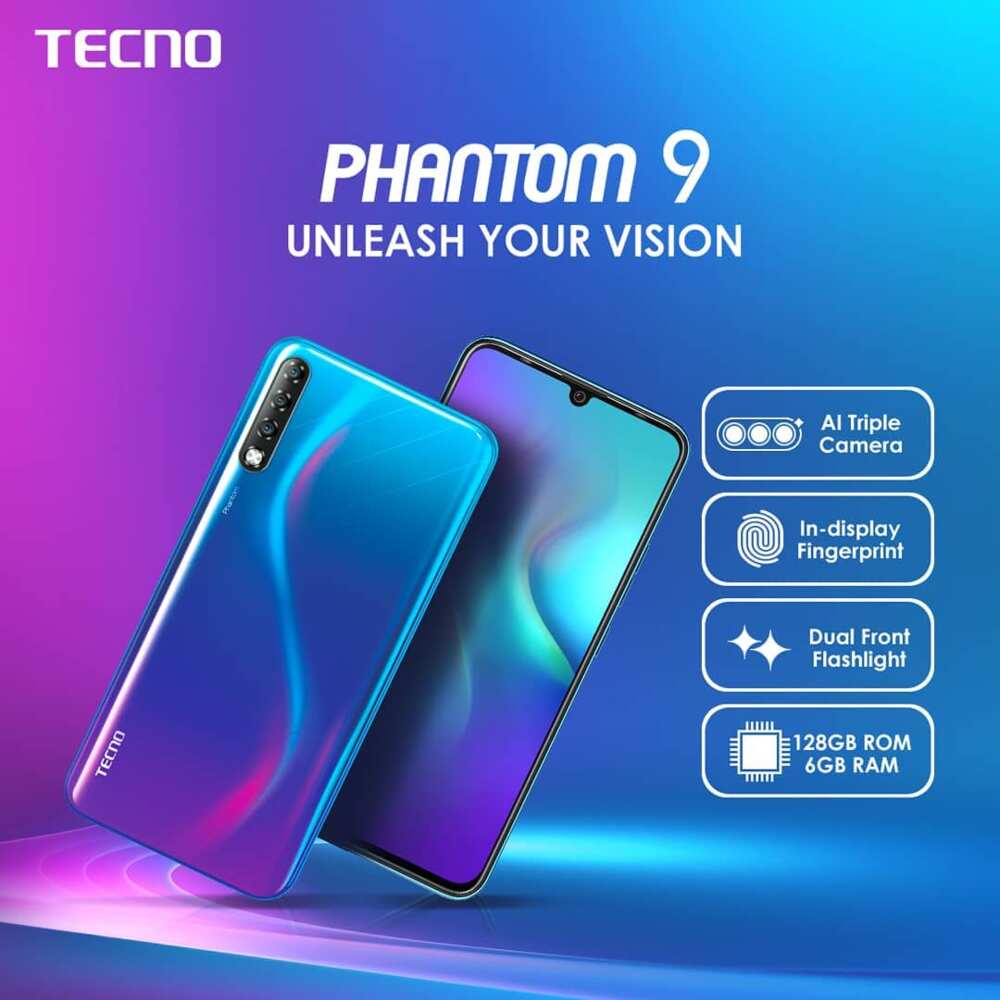 The is a new high-end device that runs on Android Pie (9.0) and is the successor to the popular Phantom 8 smartphone. The device was launched in July 2019 and is perfect for users who want to live in the moment. Some of its standout features include a stunning dot-notch screen and a triple camera designed for perfect photographs. The smartphone's 3500 mAh battery with Tecno's fast charging technology is also a huge plus.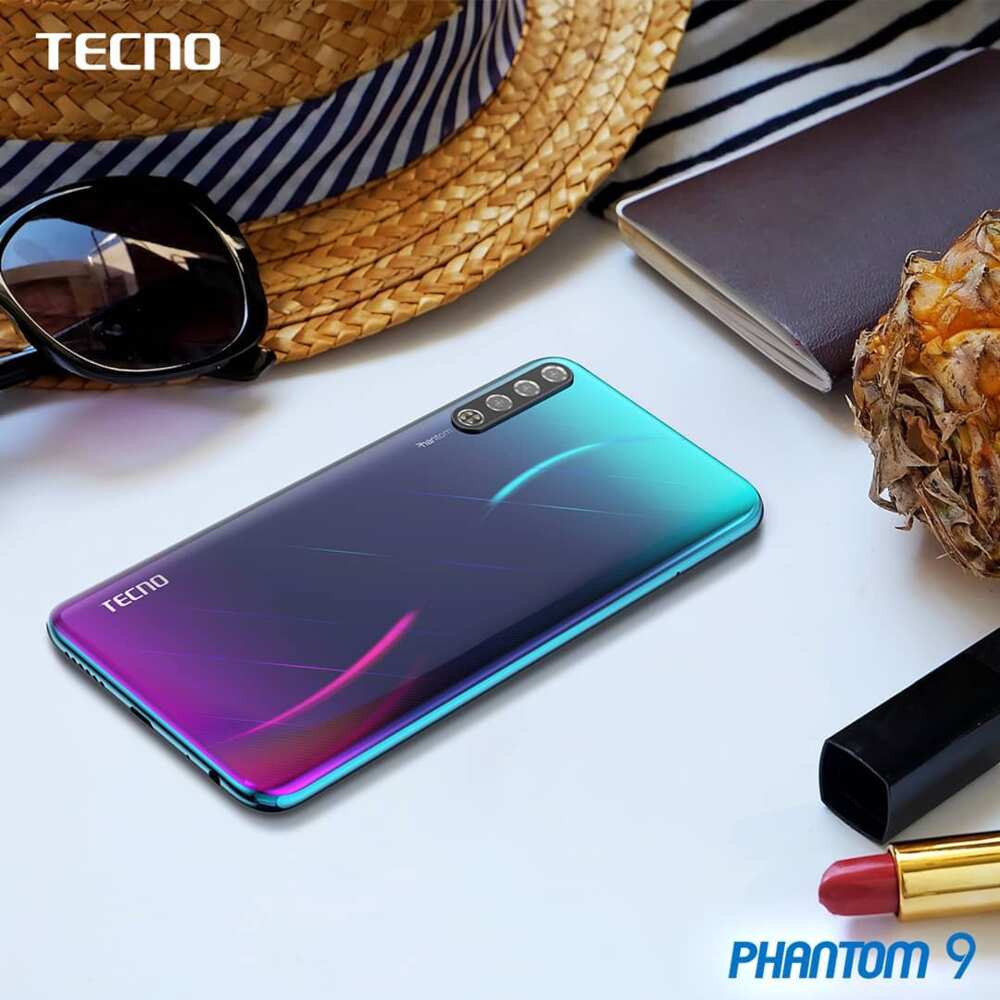 Tecno Phantom 9 specifications
This latest Tecno phone 2019 has some . Here is a breakdown:
Announced: July 2019 Dimensions: 158.5 x 75.3 x 7.9 millimeters Weight: 164.4 grams SIM Cards: Dual Nano-SIM standby Display technology: AMOLED capacitive touchscreen Screen size: 6.39 inches Resolution: 1080 x 2340 pixels Display protection: Corning Gorilla Glass 3 Operating System: Android Pie (9.0) Chipset: Mediatek MT6765 Helio P35 Processor: Octa-core Internal memory: 128 gigabytes External memory: Up to 1 terabyte Random Access Memory: 6 gigabytes Front camera: 32 megapixels Main camera: 16 MP main sensor, 8 MP ultra-wide sensor and 2 MP depth sensor Connectivity: WLAN, Wi-Fi, Bluetooth Sensors: Accelerometer, gyro, proximity, fingerprint and compass. Battery: 3500 mAh Colours available: Lapland Aurora
Tecno Phantom 9 review
The latest Techno phone has some standout features that set it apart from its predecessor as well as other competing devices. The device's camera, processor, display and sensor technology are all top-level.
Tecno Phantom 9 triple camera
The phone's primary camera is made up of three sensors. The 16-megapixel primary sensor takes care of scene recognition and dynamic range. The secondary 8-megapixel sensor works as a wide-angle camera as well as what the company refers to as extreme macro photography. The third sensor has 2 megapixels resolution and helps the device capture images with professional-looking bokeh effect where the background is smoothly blurred.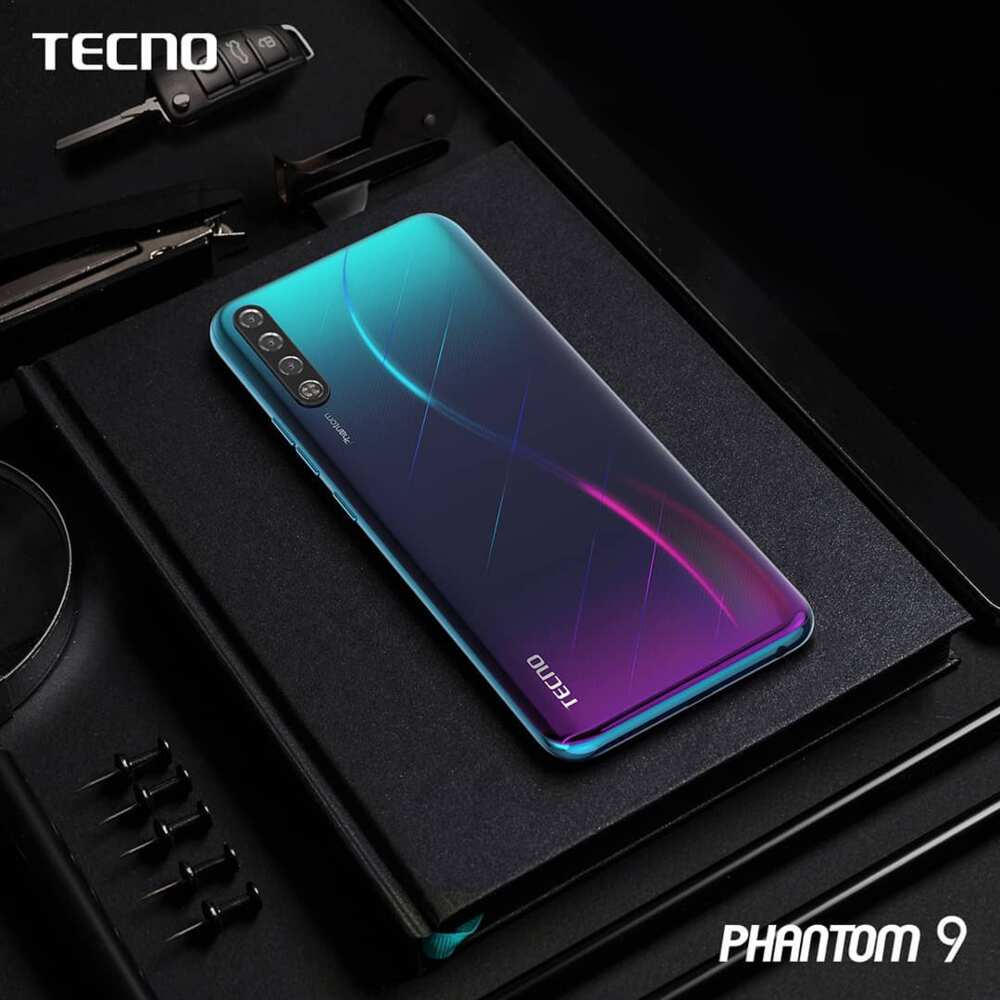 Besides the triple camera layout, this Tecno phone can capture brighter and clearer images thanks to its quad-flash setup which lights up the subject using four flashes. Other additions include the use of artificial intelligence for scene detection and dynamic range. The front camera cleverly integrates powerful dual flashes on the small dot notch on top of the screen. Coupled with the 32-megapixel sensor and improved beauty mode, users can take perfect selfies even in low light.
Improved fingerprint sensor
Traditionally, smartphones have had fingerprint sensors on the back panel. However, this Tecno latest phone integrates the sensor under the phone's display. While not exactly groundbreaking, it helps the phone keep up with the latest industry trends. The new placement of the fingerprint sensor allows easier unlocking as compared to earlier installations on the back. The device can be unlocked by moving one's finger on the in-display fingerprint section.
High-res AMOLED display
The company promises users a viewing experience similar to being in a movie theatre. The dot notch screen provides users with a full view that requires less scrolling. The AMOLED technology, on the other hand, makes colours look more profound and natural as compared to other display technologies. The Phantom 9 display is also able to filter harmful blue rays and protect the user's eyes.
Octa-core processor and sufficient storage
The device comes with 128 gigabytes of inbuilt storage on the top configuration. This is paired with 6 gigabytes of RAM for mind-blowing speed and efficiency. The phone has a dedicated memory card slot with one terabyte capability. The device will be perfect for storing all kinds of audio, video, image and other assorted files without worrying about running out of space.
Amazing craftsmanship
According to Tecno, the Phantom 9 is crafted in 168 hours and has forty-two million texture lines on the back for that unbelievably beautiful back cover effect. The device is only available in one colour (Lapland Aurora) which the company defines as a pursuit of extreme aesthetics.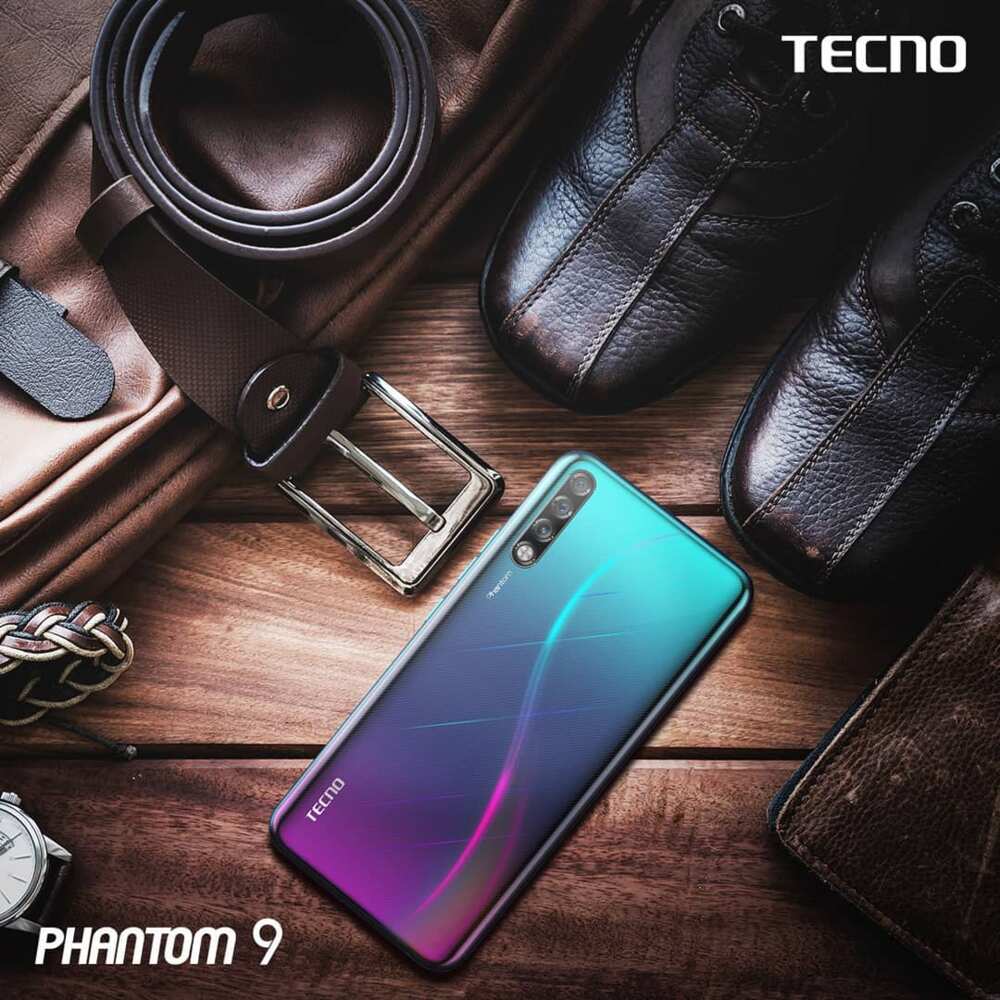 HiOS version 5.0
HiOS is Tecno's customized skin that is overlaid on top of the stock Android operating system. The latest version five has been updated based on Android Pie (9.0). The user interface now includes features such as artificial intelligence battery lab, assistant, smart panel and beauty lab. The AI assistant is designed to provide users with unmatched convenience in their day to day tasks.
Android Pie (9.0)
marked the first time Google switched to heavy reliance on gestures for navigating a phone's user interface. Some noticeable features include:
Swiping upwards to access recently-used applications Swiping upwards twice to access the application drawer Long swiping for access to the app drawer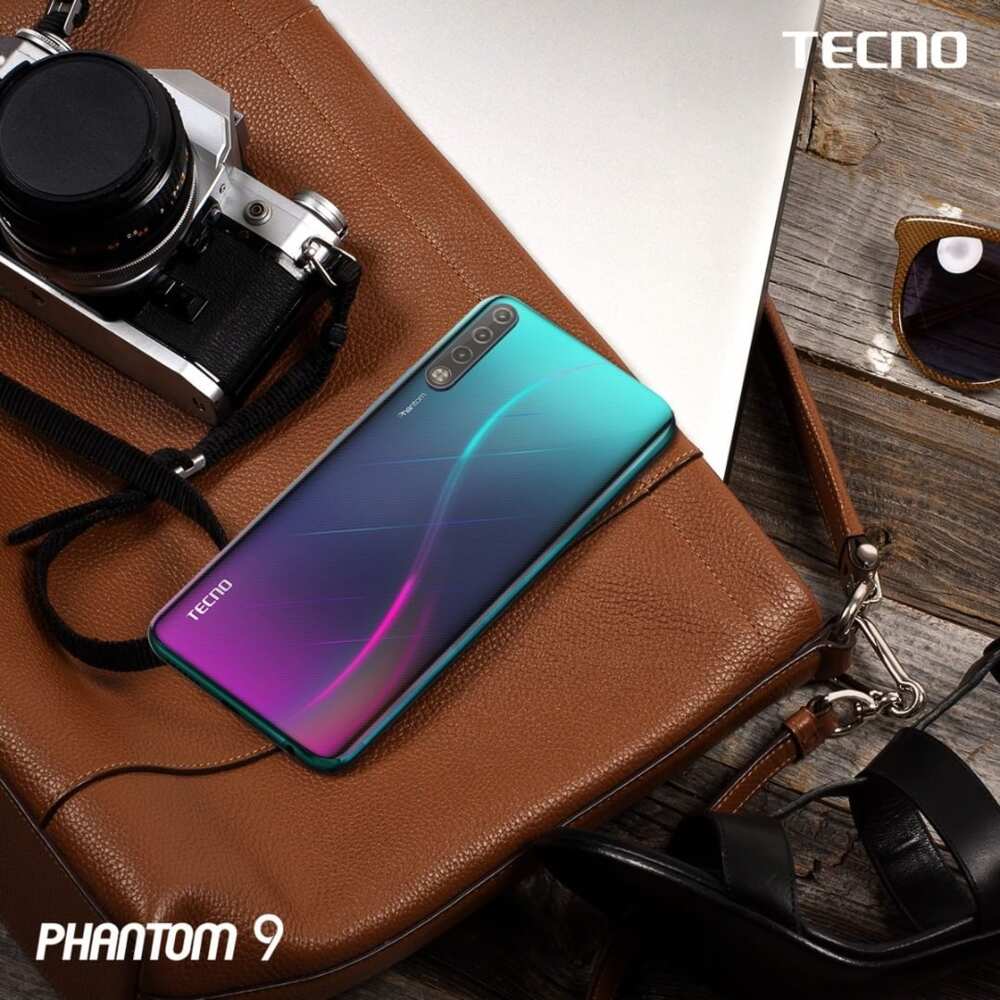 The operating system has lots of amazing features and works flawlessly with modern devices. The combination of swipes and taps integrated into the system might be a bit challenging at first but easy to master with continued usage. The Phantom 9 comes pre-installed with this Android and does not require an update to get it unlike phones running Android 8.0 or earlier versions.
Corning Gorilla Glass 3 protection
Corning's third version of their world-famous is chemically-strengthened for durability. The Phantom 9 screen will have higher resistance against scratching and breaking as a result of the added protection. The atomic configuration of Corning's protection makes it damage-resistant and tough even before chemical strengthening is applied.
What is in the box?
1 Tecno Phantom 9 smartphone 1 USB cable One charger
Price in Nigeria
Pricing for the device varies slightly depending on the seller. Generally, the device has been priced between ₦ 82,000 and ₦ 97,000 since it was launched.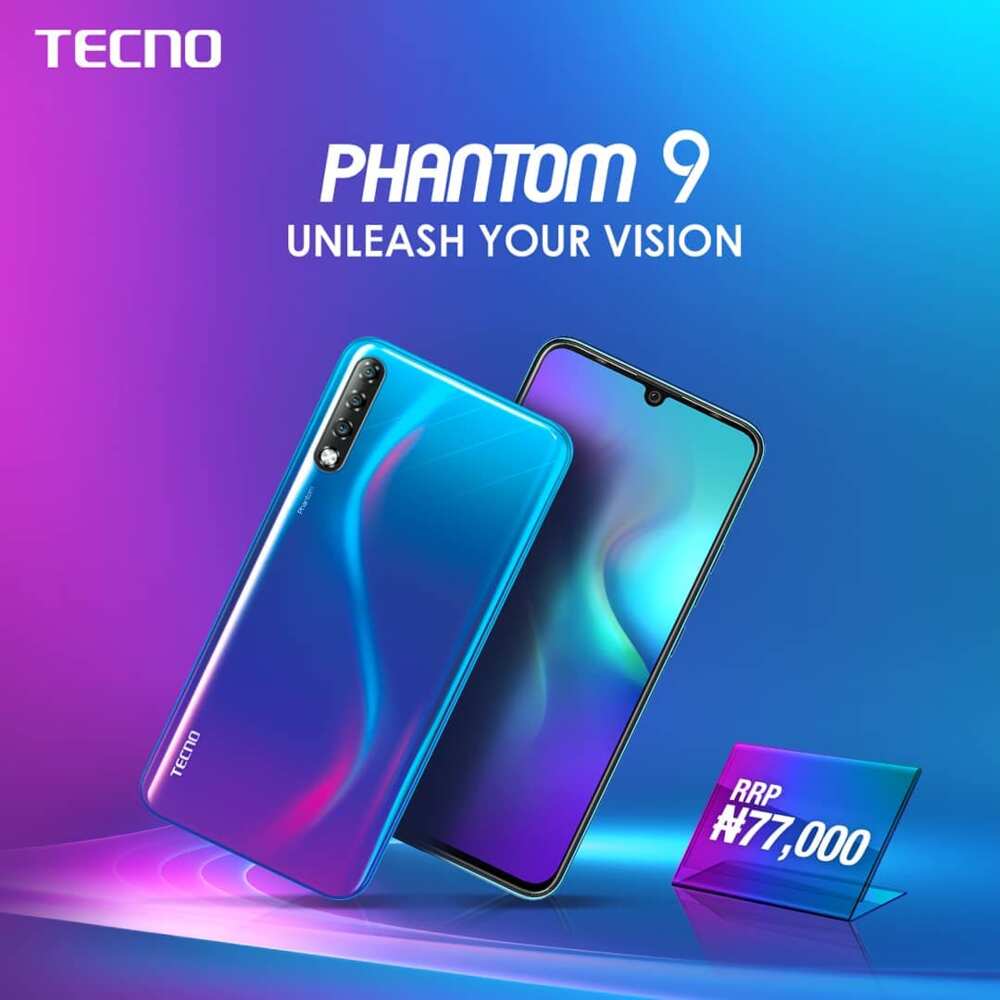 The Tecno Phantom 9 is another noteworthy addition to the ever-growing range of Tecno devices. The smartphone will appeal to photography lovers due to its camera. Besides this, the array of useful features and top-notch specifications makes it worth considering. The Phantom 9 is a timely reminder that one can get a high-end phone for a reasonably pocket-friendly price.
Source: legit.ng