Patapaa - Wo Ho Aba?: The new masterpiece to add to your playlist
Posted on
Legit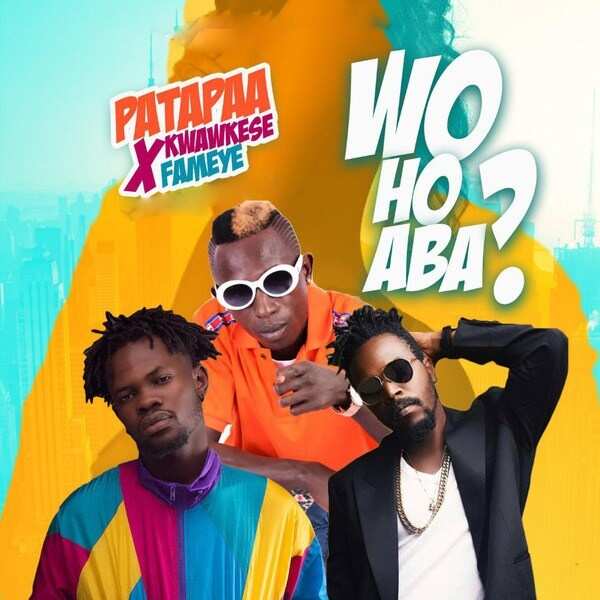 Enjoy the new banger by Patapaa – Wo Ho Aba?! This time, the Ghanaian hiplife star has cooperated with Fameye and Kwaw Kese. The three stars have produced something so exciting that you will hardly resist the desire to tap your feet to its rhythm.
The song is available as an audio track. It may just follow the success of Patapaa's 'One Corner' that received the nomination in 2018 at the Vodafone Ghana Music Awards.
Patapaa - Wo Ho Aba? description
Release date: 26th July 2019 Format: audio Genre: Hiplife Length: 3:22 minutes
You will be enchanted by the rhythm of this new hit. The three professionals have done an excellent job to delight their audience.
Patapaa - Wo Ho Aba? reactions and comments
Fans of the stars have already left a number of positive reviews in the song's comments section on YouTube:
Savage king is everywhere TV: This konko music is another banger. oh Patapaa why r u doing this to us? Method Man: THE ONLY UP COMING ARTIST THAT CAN MOVE CROWD Alexandra C: This is a Massive Collab… Happy Patapaa loving this Kojo Ananse: In fact patapaa is living the meaning of his name. Wow!!! He is now a thumb in the industry. bis mark: Nice chorus Patapaa GH. Kwaw's part… Bossu levels. Nice one from Fameye. NANA FYNN: I love this track so much you are the best Kumilabby Richmond: Good job. .......Keep it up. Richmond koforidua Theo Taky: CHALE Patapaa be national treasure Herh! what a track. Sharp Life: Festival banger Kwame Gyimah: Another hit it sounds like London beats, nice one Momo Poure: This guy get the keys to the Ghanaian music
Patapaa - Wo Ho Aba? download
If you have already fallen in love with this incredible banger, add it to your playlist by downloading it from the links below:
Patapaa – Wo Ho Aba? Patapaa – Wo Ho Aba?
What do you think about the brand-new song by Patapaa - Wo Ho Aba? Do you like the collaboration by the three artists? Feel free to share your point of view in the comments section below this article.
Source: legit.ng