Chelsea set to hand fan who abused Sterling racially to police
Posted on
Legit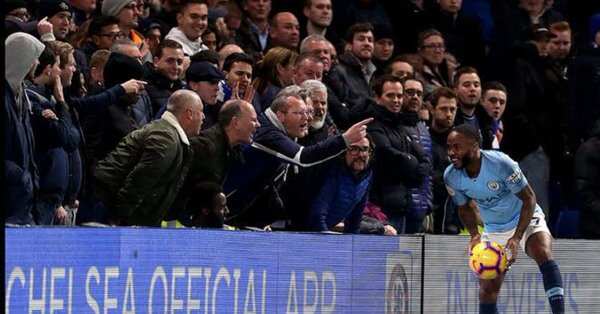 - Manchester City star Raheem Sterling was subjected to racial abuse during his side's 2-0 defeat to Chelsea at the Stamford Bridge over the weekend
- Goals from N'golo Kante and David Luis were all the Blues needed to put an end to the Citizens unbeaten record
- The club has however handed the details of the erring fans to the authorities as investigations continue
Chelsea have reportedly handed the details of the fan who racially abused Raheem Sterling to the police.
The Blues ended Manchester City's unbeaten run after beating Pep Guardiola's side 2-0 at the Stamford Bridge.
According to Daily Mail, a man in blue was caught on camera calling Sterling a 'f****** black c***' while other Chelsea supporters in the Matthew Harding Stand also joined him in the abuse.
The publication revealed that the former Liverpool star told Metropolitan Police on Sunday morning that he heard racial abuse from the stands.
However, no arrests have yet been made but investigations are ongoing in a bid to punish erring fans who rained racial abuses on the star.
Chelsea have also been carrying out their own investigation into the incident, using TV footage from many angles obtained from broadcasters BT Sport to identify the man who allegedly racially abused Sterling.
PAY ATTENTION:
"Raheem Sterling was getting a lot of abuse from all sections. However, I have to be honest and say I didn't hear actually any racial abuse whatsoever," Lewis told ITV's Good Morning Britain.
"A lot of people have been questioning me and my integrity as to why I didn't get involved, why I didn't react. But I didn't actually hear anything racial from any section of the crowd.
"But that doesn't mean it didn't happen. There's 40,000 people there, shouting from all different directions, so I didn't hear it."
Lewis also said that the fans standing close to the incident were being sent messages from friends telling them that they had been shown on TV, and that they had found it funny knowing that they were shown. But Lewis again emphasised that at the time he did not know there had been any racial abuse.
"We all knew it was on TV because the camera was in front of us,' he said. 'People were getting texts through and messages through showing we were on TV, and they found it quite funny.
PAY ATTENTION:
"So they knew we were on TV and that something had happened and we'd been seen, but at that time I never knew it was of a racial nature.
"I think it's disgusting. I'm right there, three feet away from him and he's got no disregard from me, Sterling either.
"I just thought in this day and age it had gone. Luckily I've not experienced racism in my life so to see that happen on TV just a few feet away from me is quite scary."
Legit.ng recalls that their 2-0 win at the Stamford Bridge over the weekend.
N'golo Kante opened scoring for the Blues on the stroke of half time after which David Luiz sealed the win for the hosts later in the second half.
Maurizio Sarri's men however remain fourth on the log with 34 points - two behind third place side Tottenham Hotspur.
We have upgraded to serve you better
Football Transfers That Shocked The World -
Source: legit.ng