Mum finds in her handbag note of appreciation written to her by son in his cap
Posted on
Legit
The love of a mother can not be quantified. While some gets appreciated openly by the children, some gets loved back through the actions of their children. People have different ways of expressing their love and gratitude.
While many believed that mothers are under celebrated, some believed you cannot appreciate them enough.
For Alhaja Adeola Agoro JP, her sons choose special ways to tell her they know and appreciate all her sacrifices for them.
According to the mother who shared the story on her Facebook timeline, she noted that two years ago, her first son had called her the tallest woman and also a rock through a text message he had sent to her.
PAY ATTENTION: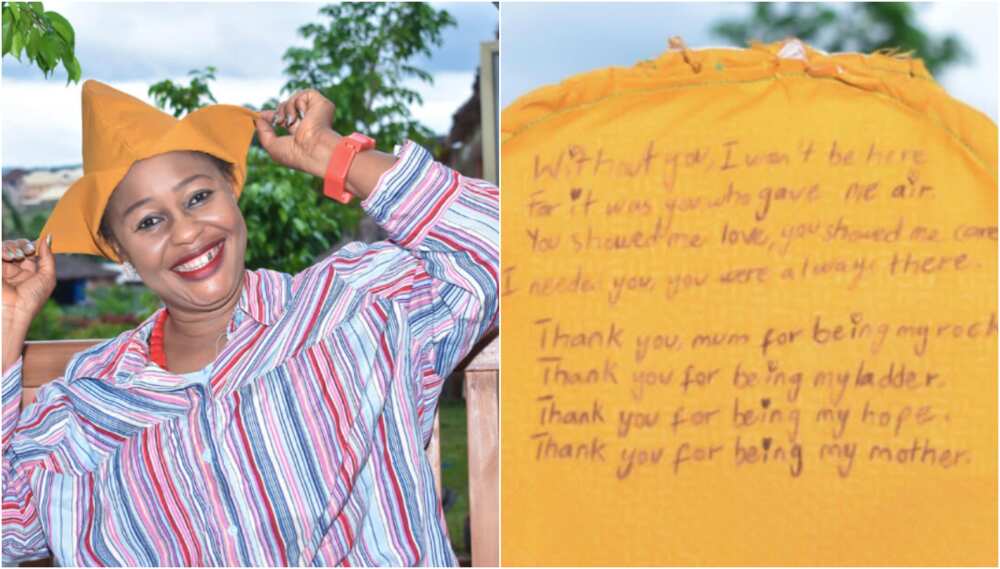 Well, her second son had chosen another way to show his gratitude for her efforts over him. Alhaja Agoro noted that they had just concluded the thanksgiving service for final year students in the university and her son dropped his cap in her handbag. To her she felt he does not like the cap so she took it home and dropped it somewhere.
Days later, her son called to ask if she had found his cap in her bag and wants to know if she had opened it to see what was inside. With a shaky hand, Alhaja Agoro said she went to look for the cap, opened it and found a love note from her son to her.
He wrote: "Without you, I won't be here. For it was you who gave me air. You showed me love, you showed me care. When I need you, you were always there.
Thank you mum for being my rock. Thank you for being my ladder. Thank you for being my hope. Thank you for being my mother."
The mother has since being wearing her son's cap with her love note.
:
One of the outstanding stories of the recently held Mothers' Day was that of actress
Meet hardworking mother and wife who works as a glass-technician in Abuja |
Source: legit.ng