Usman: Anointed candidate, pretender, or hypocrite in Kogi polls? (Opinion)
Posted on
Legit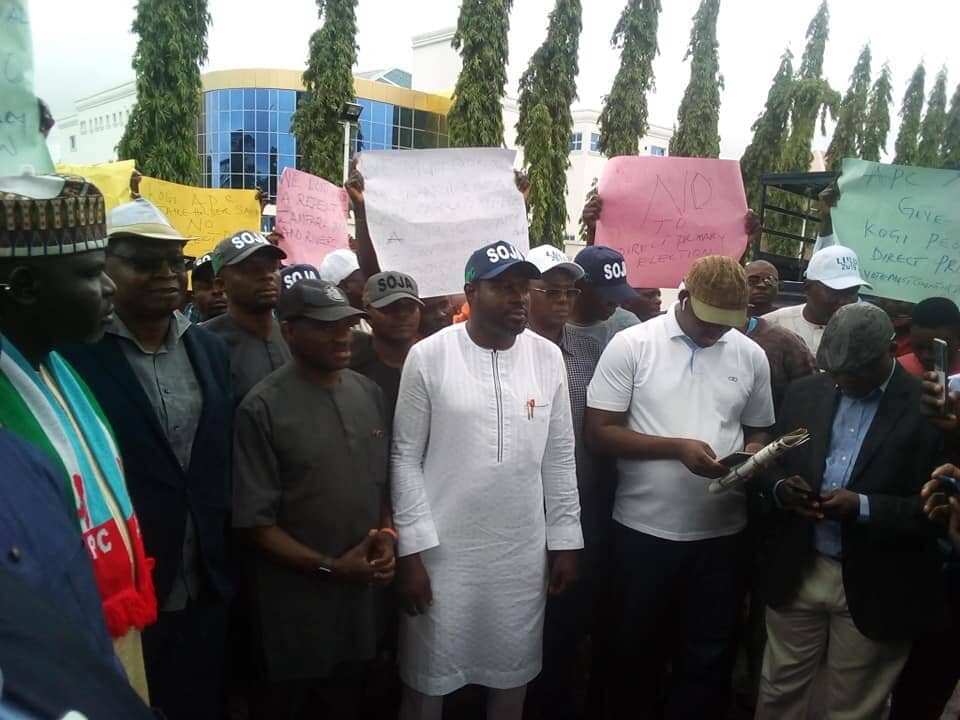 Editor's note: Benson Adama, a public affairs analyst writes on the forthcoming November 2019 Kogi governorship election with focus on the aspirants of the All Progressives Congress (APC), ahead of the polls.
Read below:
APC governorship aspirant, Admiral Jibrin Usman, has been postulating covertly and overly to some people about high powers backing his quest to become the next governor of Kogi state. The narrative is that political juggernaut, Asiwaju Ahmed Tinubu has endorsed and adopted him as the candidate to succeed the incumbent governor and this was facilitated by Abiodun Faleke.
We were however taken aback by what we saw earlier today when governorship aspirants that are ill-disposed to indirect primaries gathered at the APC national secretariat for a protest. Jibrin Usman was seen at the forefront of the protest, a scenario which is most baffling. 
The question now is: If Usman Jibrin has been anointed by Tinubu and Oshiomhole, and same has been impressed upon the APC in Kogi state, why is the erstwhile naval chief restless and protesting against the indirect primaries misadventure by the NWC? Why is the Tinubu and Oshiomhole's 'anointed' candidate protecting, running from pillar to post on the guber ticket matter?
If Admiral Usman Jibrin has been anointed to be Kogi's next governor and have been blessed by Tinubu and chosen by the powers that be in the APC, why is he on the streets of Abuja protesting? Shouldn't he be rest assured of victory and unperturbed about the gimmicks of Yahaya Bello?
One thing is very clear; incumbent governor Yahaya Bello has not done well in governance but has done tremendously well in assembling the one scattered party, the APC in the state to a more formidable and structurally strong political party today. When Bello was building the party, they were working for opposition parties to defeat APC in Kogi and they are now calling the APC their party today.
It has become evident that the retired admiral typifies hypocrisy, a very terrible disposition that will make him a worst governor than the incumbent if given the chance. Moreover, the retired admiral is a very cheap propaganda merchant and dreaded traducer who has no truth as mendacity is his second nature and natural habitat. We cannot be deceived anymore. This self-acclaimed Tinubu and Oshiomhole's anointed candidate should leave the political scene and allow those who have better things to offer to continue.
Disclaimer: The views and opinions expressed here are those of the author and do not necessarily reflect the official policy or position of Legit.ng.
Your own opinion articles are welcome at [email protected]— drop an email telling us what you want to write about and why. More details in
We're ready to trade your news for our money: submit news and photo reports from your area using our Citizen Journalism App.
Contact us if you have any feedback, suggestions, complaints or compliments. We are also available on
Stay with Legit and keep track of the
Frustrated Nigerian man says 'nobody cares about you' |
Source: legit.ng