Reps approve June 12 as new Democracy Day
Posted on
Vanguard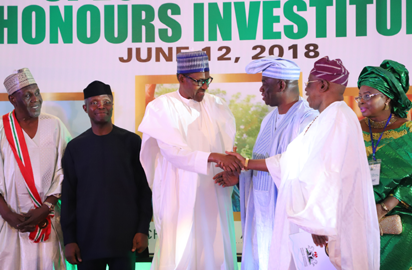 *ask EFCC to prosecute GINL, others for economic sabotage on concessioning of Ajaokuta Steel company
By Levinus Nwabughiogu
ABUJA-House of Representatives on Thursday considered and passed a bill seeking to confer legal status on June 12 as Nigeria's new Democracy from the known May 29.
The House also asked the Economic and Financial Crimes Commission (EFCC) to prosecute the Global Infrastructure Nigeria Limited (GINL) and others indicted for economic sabotage in the concession of Ajaokuta Steel Company.
It will be recalled that President Muhammadu Buhari had in May this year conferred a posthumous award on Alhaji MKO Abiola, the acclaimed winner of June 12, 1993 presidential election upon which the new Democracy Day and also proposed the day as such.
Titled "A Bill for an Act to Amend the Public the Public Holidays Act, Cap. P40 Laws of the Federation of Nigeria, 2004 to bring the Act in tandem with the current realities and exigencies of the modern times and to declare June 12 as Democracy Day in Nigeria and for Related Matters (HBs.918 and 1529)", the bill was sponsored by Hon. Edward Gyang Pwajok and Hon. Kayode Oladele.
The call to try GINL and others suspects was part of the recommendation of the House Ad-hoc Committee that investigated the concession process of Ajaokuta Steel Company.
The House while considering the report yesterday also called on the federal government to immediately use the money recovered from infamous Abacha loot to revive the company by completing the two per cent of the external components of the project, which included the external rail track system, access road linkages and mining sites.
It also asked the government to terminate the recent re-concession agreement signed with GINL on August 1, 2016 on the basis of an indictment of the company.
"All indicted local collaborators should be made to pay damages to the host communities that suffered loss of lives when the Company used brutal force against the workers, who tried to stop the Company from stripping and vandalising the assets of the concessioned plants", the report stated.
Source: vanguardngr.com